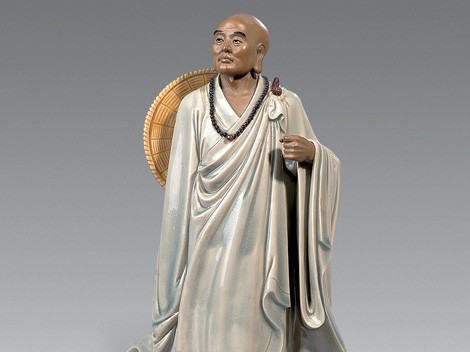 Living in the 688-763 period, Jian Zhen was a famous master of Buddhism in the Tang Dynasty. His sailing to Japan was regarded as a great event in both the Chinese and the World's Buddhism history.
Jian Zhen became a monk when he was fourteen years old. He was highly accomplished in the field of Buddhism, music, architecture, sculpture, painting, medicine and calligraphy, etc. In 742, at the invitation of Japanese monks, he sailed to Japan with the aim of disseminating Buddhism. Since the year 743, he had made five attempts of sailing to Japan.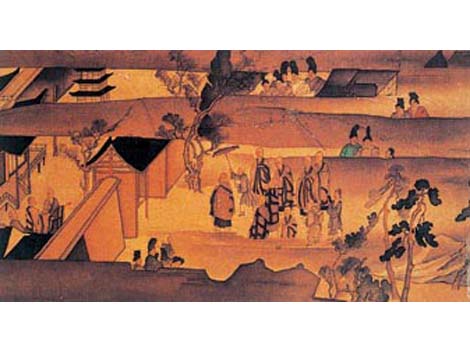 However, due to arduousness of the journey, he didn't succeed, and what is worse, he suffered disease and lost his eyesight in the last attempt. Despite of the failures, Jian Zhen, who had made up his mind to reach Japan, was finally successful at his sixth attempt in 753. In 759, together with his disciples, Jian Zhen built the "Tangzhaoti Temple" in Nara, Japan by following the architectural style of the Tang Dynasty. The temple hereby became the center for propagating Buddhism. Being proficient in leechcraft, Jian Zhen cured numerous undiagnosable illnesses of Japanese people when imparting medical knowledge to them. He was thereby held up by Japanese people as the primogenitor of medicament.
Moreover, Both Jianzhen and his disciples are versed in calligraphy, so they took along with them the genuine works of famous Chinese calligraphists to Japan, which greatly promoted the formation of Japanese calligraphic art. His own works Calligraphy Model of Buddhist Scriptures was also cherished as the National Treasure of Japan. Jian Zhen's sailing to Japan exerted great influence on Japanese culture. Techniques for the industry of bean curd, catering and brewage were regarded to be imparted by Jian Zhen. For his great contribution to the Japanese nation, Jian Zhen was revered by Japanese people as the "Blind Saint", "Founder of Japanese Vinaya School", "Ancestor of Japanese Medicine", "Benefactor of Japanese Culture".