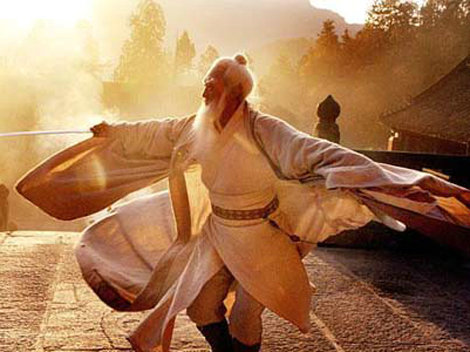 Zhang Sanfeng (张三丰) was a semi-mythical Chinese Taoist priest who is believed by some to have achieved immortality, said variously to date from either the late Song Dynasty, Yuan Dynasty or Ming Dynasty. His name is said to have been Zhang Junbao (张君宝)before he became a Taoist.
Zhang was indifferent to fame and wealth. After declining official position and dispatching his property to his clan, he traveled around China to live the life of an ascetic. Zhang spent several years at Hua Mountain before settling in Wu Tang Mountain(武当山).
A legendary culture hero, Zhang Sanfeng is credited by modern practitioners as having originated the concepts of neijia (內家); soft, internal martial arts, specifically T'ai Chi Ch'uan, as a result of a Neo-Confucian syncretism of Chán Buddhist Shaolin martial arts with his mastery of Taoist Tao Yin (neigong) principles.It is said that on one occasion Zhang Sanfeng observed a bird attacking a snake on Wudang Mountain and was greatly inspired by the snake's defensive tactics. It remained still and alert in face of the bird's onslaughts until making a lunge and fatally biting its attacker. This battle inspired him to create a 72-movement T'ai Chi Ch'uan"set." He is also associated in legend with the Taoist monasteries at Wudang Mountains in Hubei province.
Stories from the 17th century onward give him credit for the internal martial arts. 19th century and later stories give him credit for T'ai Chi Ch'uan.
Zhang Sanfeng is also said to have been versed in Shaolin Gung Fu, an expert in the White Crane and Snake styles of Chinese martial arts, as well as in the use of the Chinese straight sword or jian. According to relatively late (19th century) documents preserved within the Yang and Wu family's archives, the name of Zhang Sanfeng's master was Xu Xuanping (许宣平), said to be a Tang dynasty hermit poet and Taoist Tao Yin expert.
The Tai Chi Chuan families who ascribe the foundation of their art to Zhang traditionally celebrate his birthdate as the 9th day of the 3rd Chinese lunar month.
Much of the written material about him is mythical, contradictory, or otherwise suspect. For instance, he is reported by different people to have been born either in 960, 1247, or in 1279. He has at times been described as being seven-feet tall, with the bones of a crane and the posture of a pine tree, having whiskers shaped like a spear, and being able to cover 1000 li in a day (roughly 580 km or 350 miles). He is reputed to have worn a straw hat, and is usually depicted with one slung on his back, but two villages are reported in the 19th century Wu-yang Gazeteer (Wu-yang hsien-chih) to have believed that his hat was actually a cymbal, which only residents of the villages (famous for manufacturing cymbals) had permission to sound upon meeting him. Some sources record two Chinese emperors sending missions to Zhang Sanfeng to ask for his advice, although neither mission is reported to have found him.
Owing to his legendary status, his name frequently appears in Chinese novels and Wuxia films of swordsmen as a spiritual teacher and master of martial arts. One of the films is The Tai-Chi Master starring Jet Li and portrayed by him.
Today, Chinese readers and general public are most acquainted with Jin Yong's version of Zhang Sanfeng, thanks to the popularity of his Wuxia novels. In his book The Heavenly Sword and Dragon Saber, Zhang Sanfeng was a former Shaolin disciple in the late Song Dynasty, and born on April 9, 1247 at midnight (Day 9 of month 3 in Chinese calendar). He later left Shaolin Temple and established the Taoist monasteries in Wudang Mountains. In the book he had seven disciples, and was alive until the late Yuan Dynasty. According to many regional gazettes, Zhang Sanfeng was seen at the end year of tianshun reign (1457-1464), having lived for more than 200 years.