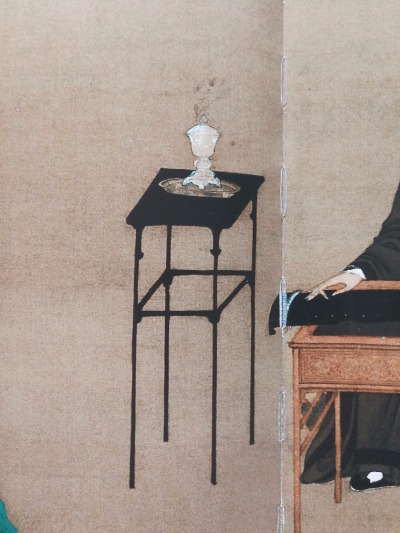 A porcelain incense burner as it appeared in a painting by Song Emperor Huizong, who himself is depicted as the man in black.[Photo provided to China Daily]
"Later it was expected to infiltrate and purify the mind. In between, the Tang Dynasty represented a distinct chapter, full of color and spice, literally and metaphorically. But it was in no way the entire story, or its most enduring part."
Jiang Jie, director of the Famen Temple Museum, about 110 kilometers from present-day Xi'an, Shaanxi province, believes that as far as spice culture is concerned, internalization was a perennial process, even during the Tang era. From the temple's underground crypt, many Tang-dynasty incense burners and related wares have been unearthed, testifying to a populous culture that was a veritable phenomenon.
"Very often during the Tang era, spice for burning came in the form of little balls that mixed spice powder with honey," Jiang says. "This was very much informed by the making of traditional Chinese medicine, whereby different ingredients were ground and then kneaded into round pills, with honey serving both as bonding agent and sweetener."