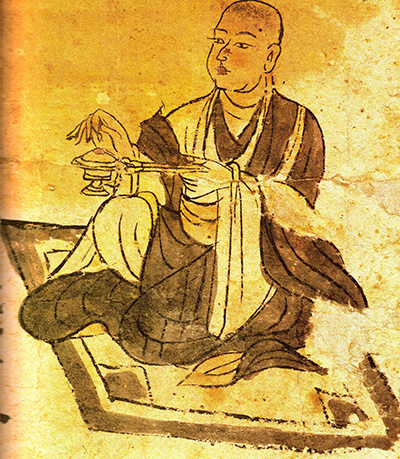 Fresco from the Five Dynasties period (907-960) showing a Buddhist monk holding an incense burner with a long handle.[Photo provided to China Daily]
This process of localization is inevitable, enabled by a tradition that had extended far back beyond the point of foreign spices' entry, Zhao says.
"Chinese used spice/incense long before the terrestrial Silk Road was opened." (In history, the terrestrial Silk Road was complemented and enhanced by what is known today as the maritime Silk Road, first formed around the first century BC but which only flourished when the waning fortunes of Tang led to intermittent interruption of the terrestrial route, around the ninth century.)
"In Chinese antiquity, that puff of smoke was believed to be able to facilitate communication between man and heaven," Zhao says.