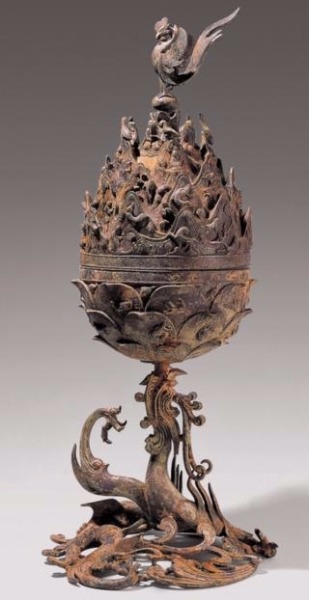 Bronze Boshan Mountain incense burner unearthed in South Korea, attesting to ancient China's exportation of its scent culture.[Photo provided to China Daily]
"During the time of Song, incense-burning became an integral part of the life of the literati, whose traditions and values were celebrated by the whole of society, from the emperors down," Zhao says. "Consequently, the whiff of luxury previously associated with using expensive spice gradually faded, replaced by a more casual, relaxed attitude.
"Inhaling scent was supposed to nurture introspection, a state of being that ideally should form the daily reality of a culturally minded and inform poetry writing. Thereafter, pursuing novelty and flaunting wealth was deemed irrelevant.
"This new ideal spawned a whole new aesthetic, with golden or gilt silver incense burners featuring intricate decorative patterns giving way to pared-down designs, often realized in mutely colored (pale greenish blue, for example) porcelain."