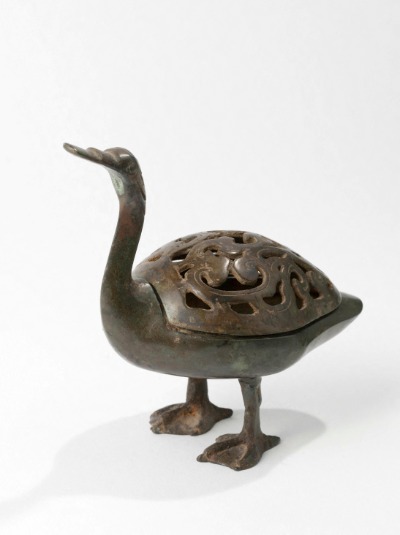 A duck-shaped incense burner from ancient China.[Photo/Shanghai Museum]
Even the fashion sense of the time, with a level of daring unrepeated by any subsequent Chinese dynasty, was formed partly due to this influence from the west, Jiang says. "It seems that the hot wind blowing from the Gobi Desert and beyond reached and tickled at the heart of the Chinese empire."
Stretching over vast areas of Eurasia in today's Mongolia and northwest China, the seemingly boundless Gobi Desert presided over the ancient Silk Road that cut through it. The road itself was first opened by a man named Zhang Qian, who, acting as an envoy for Emperor Wudi (156-87 BC) of the Han Dynasty (206 BC-220), embarked on his westward journey from the city of Chang'an, the Han capital, in 139 BC. The aim was to seek a military alliance with the country of Dayuezhi, against their common foe - the throat-slaying Xiongnu horseman, a large confederation of nomads that dominated the steppe from the late third century BC to the late first century AD.
The mission eventually took 13 years and many twists, yet was never quite accomplished. Still reeling from their previous defeat by those ferocious marauders, the king of Dayuezhi was reluctant to join forces with the Han. But when Zhang Qian returned in 126 BC, he brought back with him the knowledge of a new route that could lead to both military allies and trading partners, and, hopefully, admirers.