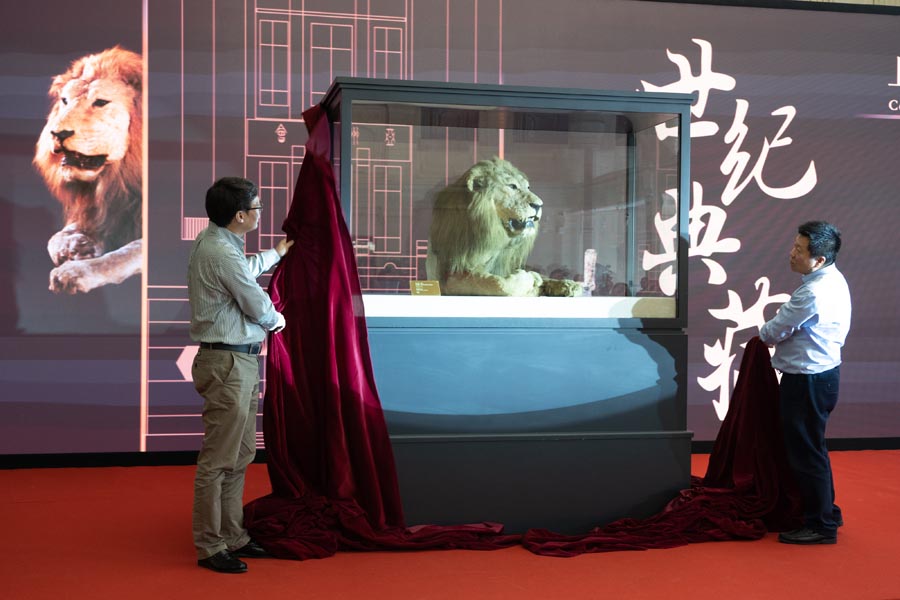 The specimen of an Asian lion is unveiled at the opening of the exhibition. [PHOTO BY GAO ERQIANG/CHINA DAILY]
It started from the Shanghai Literary and Scientific Society, which was founded by 18 expatriates led by E.C. Bridgman (1801-1861), America's first missionary to China, in 1857. Two years later, the society joined the Royal Asiatic Society of Great Britain and Ireland, to be its North China branch.
In 1872, the NCBRAS clubhouse began to open to the public, and in 1874, the Museum of the NCBRAS was officially open at No 5 Yuanmingyuan Road (now 20 Huqiu Road in Huangpu district) in Shanghai. During the same period, another museum was founded by the Catholic priests in Shanghai, which later became part of the Aurora University Shanghai.
Both museums closed in 1952, and the collections were given to the Shanghai Municipality, later joining the public museums of the city, mainly the Shanghai Museum of Natural History, a branch of the Shanghai Museum of Science and Technology.
Yang shared stories of the first museums of Shanghai at a forum on July 17, and said that these museums wrote an important page in the urban history of Shanghai.