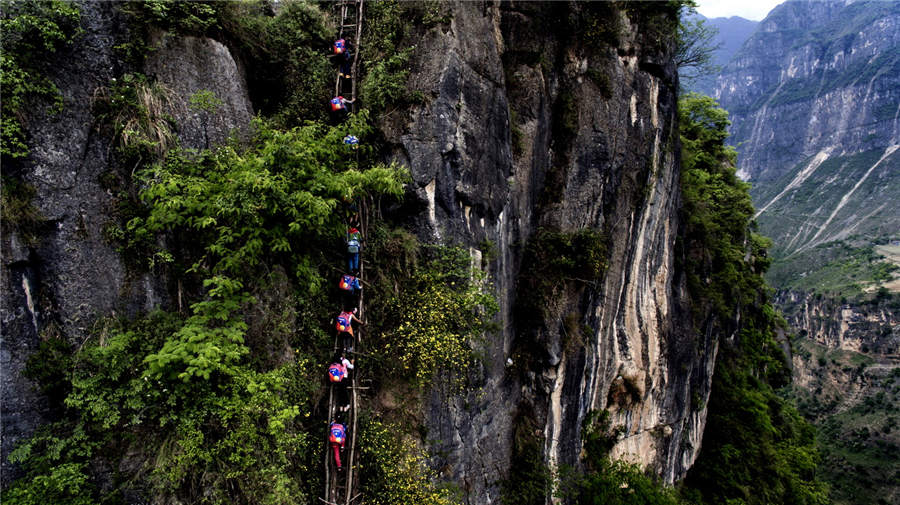 Accompanied by some parents, the four daughters of Chen Guji and his son, Chen Muhei, along with 15 children from the cliff village, climb a section of rattan ladder on the mountain that is almost vertical and stretches more than 50 meters, May 14, 2016. [Photo by Chen Jie/photoint.net]
Atuleer village in Zhaojue county, Liangshan Yi autonomous prefecture of Southwest China's Sichuan province is a genuine "cliff village", 800 meters above the ground. The altitude of the village is more than 1,400 meters and 72 families live here.
Until last year, the only way to the outside world from the village was to climb down 17 rattan ladders, among which were two linked vertical rattan ladders 100 meters long. The precipices without rattan ladders were the most dangerous. According to locals, about eight people have died on the "road" - some were villagers and some were visitors, while there were more people who fell and were injured.
Among those who climbed the high rattan ladders almost every day were 15 village children who attend the primary school on the lower mountain.
Chen Jie, a photographer and a journalist, released the report, A Village on a Cliff on May 24, 2016, which revealed the precarious situation. This aroused concern from the central government and the local government, and a steel ladder was promised to solve the village's safety problem.