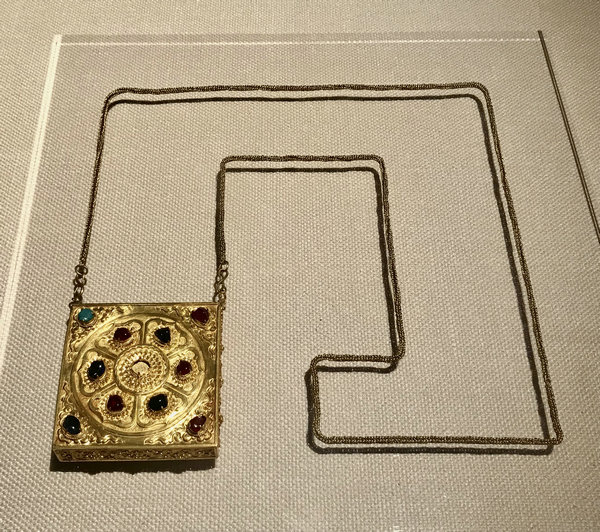 Objects shown at the History of Museums exhibition include a Ming Dynasty (1368-1644) gold sachet inlaid with precious stones. [Photo provided to China Daily]
The look and work of museums have evolved through centuries. The word "museum" traces its origin to the Latin mouseion that refers to a sacred place where ancient Greeks worshipped nine muses who patronized the arts. It also denotes an institution for philosophical research in Alexandria, Egypt, built around the third century BC.
An ongoing exhibition in China, History of Museums, is seeking to tell such stories and go beyond by identifying the core values of a museum, especially providing people with a place to reflect, study and arouse their creativity. The display is being held at the Nanjing Municipal Museum through Aug 26.
Apart from items in the Nanjing museum's own collections, objects and documents displayed are from several other cultural institutions, such as the Uffizi Galleries of Italy and the State Collection of Antiques and Archaeology Museum in Munich, Germany.
The display navigates the changing roles of a museum-from a private venue with rich holdings of art but only accessible to the elite to a public space whose modern appearance glorifies a cityscape and collections boost national pride.
The exhibition opened in late May on the sidelines of the International Forum of Museum Directors in Nanjing, where directors of Chinese museums shared with their global peers ideas on how museums in the country are trying to cater to people's diverse tastes as China urbanizes rapidly.