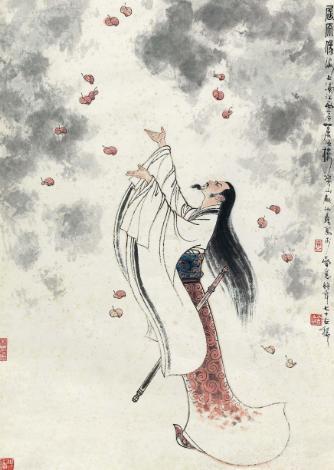 Qu Yuan, by Gu Binxin. [Photo/artron.net]
Passion for hats with a high top
In his poem Jiu Zhang, Qu said he fancied unique clothes since childhood, a passion that didn't wane even in old age.
The description of his ensemble had the poet in a robe with a long flowing belt, a hat and accessories of jade and beads.
The hat he wore had a high top, called qie yun, literally meaning as high as the clouds in the sky.
Qu was very fascinated with this hat, which he also mentioned in his most well-known work, Li Sao.  
"I made the top of my hat higher and belt longer," he wrote in the poem.
Must-have accessories: jade and perfume
Apart from the hat, the poet also couldn't go without accessories, including jade and a sword.
He preferred wearing many of these adornments to seal his look.
Herbs. [Photo/VCG]
And having a nice scent was also essential for the poet, as he mentioned many times that his clothes smelled good.
In Yun Zhong Jun, a poem about a mythical goddess, Qu portrayed the deity "bathed in perfume made from herbs" and "dressed in richly colored outfits".
Ideal materials for clothes
As a perfectionist, the poet longed for a pure, decent and elegant character, so the materials for his ideal clothes were beautiful things from nature.
He wanted to use lotus leaves and flowers to make clothes, as he wrote in Li Sao.
Ensembles for fairies would also be crafted from clouds and rainbows, such as for the god of sun, Dong Jun, in his poem.