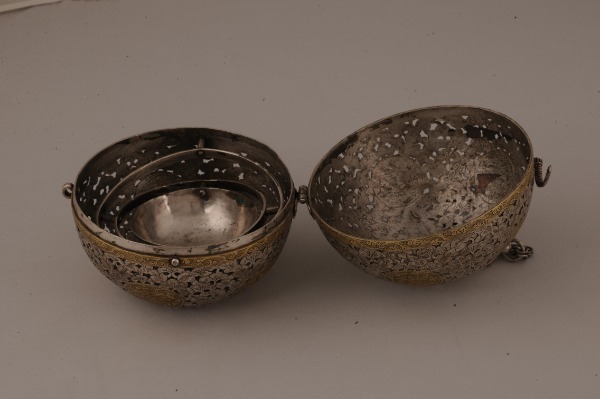 The inner mechanism of the scent sachet found in the underground crypt of the Famen Temple.[Photo by Yu Jing/China News Service/China Daily]
"The popularity of spice again soared. People would sit around long tables with big incense burners placed on top."
In another case, when the property of a corrupt high-level official was confiscated during the reign of the Tang emperor Daizong (727-779), more than a few chests of black pepper were discovered.
Ge Chengyong, a Chinese historian and archaeologist, wrote about the use of spice in Tang-period architecture. "People would probably be amused by the black pepper story, but back then, mixing black pepper with mud and using it as building material was de rigueur for wealthy elite."
Other uses of spice came in more discreet forms, but no less ingenious ones. Found in the underground crypt of the Famen Temple, a hollowed-out gilt silver ball with latticed flower-and-bird patterns is believed to have been a scent sachet. What is known today as the system of Cardan's suspension was set inside the ball, keeping it constantly horizontal and preventing the perfume powder from spilling when the sachet moves with the wearer.