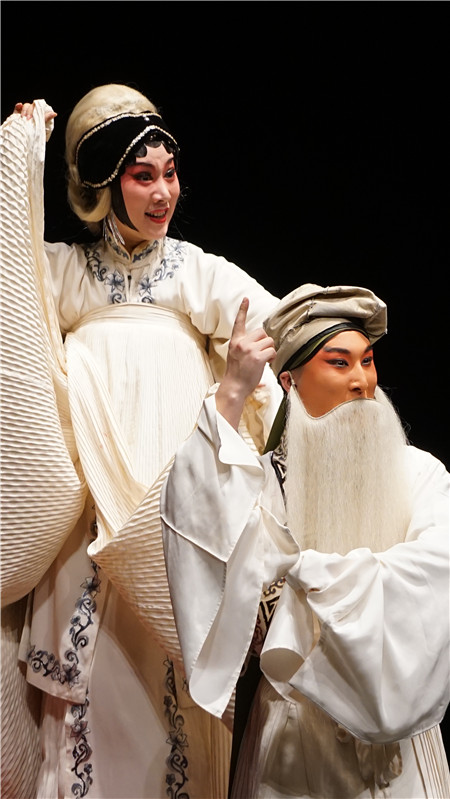 The Chairs has been adapted into a Kunqu Opera piece with the same title by director Ni Guangjin and scriptwriter Yu Xiating. [Photo provided ot China Daily]
Separately, Ni says that the Shanghai Kunqu Opera Troupe is trying to adapt classic Western scripts such as William Shakespeare's tragedies into Kunqu Opera works.
Ni, who began working as a Kunqu actor at the age of 10, has been working with the Shanghai Kunqu Opera Troupe since 1994.
Speaking about the play, he says: "It's always a challenge to put two different cultures together onstage. But what makes this experiment much more difficult is that Kunqu Opera is a very unique art form with solid methods and techniques of acting, singing and moving.
So, we had to work very hard to balance the art form and the Western story."
Also, Ni says that unlike the contemporary theaters, which put many real chairs onstage, he used symbolism, which is typical of Kunqu Opera performances.
With only one chair and two actors, the Kunqu Opera version of The Chairs gives a new life to the centuries-old art form and brings freshness to the classic piece of "theater of the absurd".
Composer Sun Jian'an also simplified the music by using few instruments-only the flute and percussion, which are mostly used for Kunqu Opera.
Speaking about what he learned while producing the work, he says:"