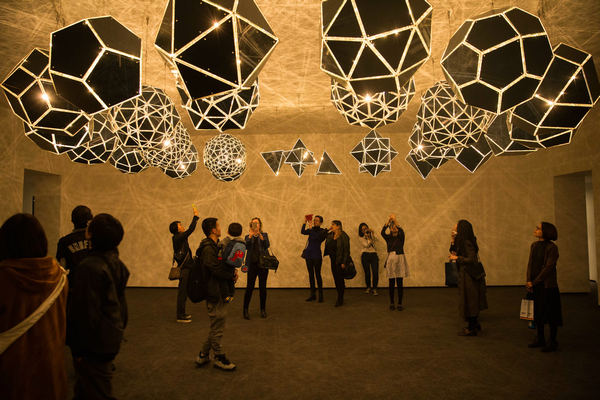 Olafur Eliasson, an Icelandic-Danish artist, is presenting more than 30 immersive installations, sculptures and paintings at the Red Brick Art Museum in Beijing. [Photo provided to China Daily]
The 51-year-old is known for his use of such elements as lights, water, fog and shadow to create natural effects of waterfalls and rainbows. His installation Weather Project that recreated a sun at Tate Modern Museum in London reportedly attracted 2 million visitors within six months in 2003.
"I won't ban phones. I encourage people to put down their phones and feel my work in a more physical way. Go under the water and feel the rainbow," says Eliasson, referring to his large-scale installation Rainbow Assembly, a circular "curtain of mist" that has shimmering rainbows on its inward-facing side.
The artist says, sometimes, he too takes photos of his own works first and shares them on Instagram. But he hopes viewers feel more and sense more.
Tomorrow Resonator and Yesterday Resonator is an installation he has made for the Beijing show that uses optical instruments to create bands of colors on the walls. For instance, visitors can see blue but once they close their eyes, they will feel as if they'd just seen purple.
"It's like reading poetry. Read more and you will go deeper, instead of staying on the surface," he says.