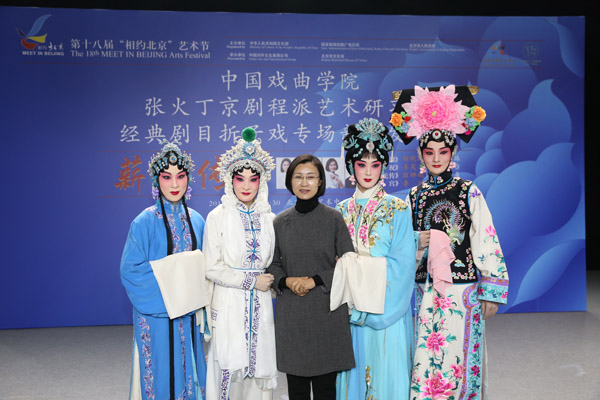 Zhang Huoding, center, takes a photo with her students after a news conference in Beijing on March 22, 2018. [Photo provided to chinadaily.com.cn]

Li Li will play Princess Tiejing in a scene from the opera Yang Silang Visits His Mother. Three of her female peers, Yang Xiaoyang, Jiang Xiaoyue and Yin Chanjuan, will interpret roles in three other plays: Tears of Wasted Mountain, Butterfly Lovers and The Legend of White Snake.
The Meet in Beijing Arts Festival is a yearly cultural event organized by the Chinese government. It's sponsored by the Ministry of Culture and Tourism, the state radio and television administration and the Beijing municipal government, and organized by China Arts and Entertainment Group and the Beijing Municipal Bureau of Culture.

Entering its 18th year, the festival's 2018 edition will convene more than 400 artists from both China and abroad in Beijing for the month-long event, which starts April 27. More than 80 shows, as wells as exhibitions and art education activities, will be featured in major theaters, art galleries and outdoor art scenes in the capital.
This year is also the third time for Zhang Huoding to present her shows during the festival. In 2015 and 2016, Zhang closed the festival with her own performances. This year, however, Zhang will put her students under the limelight instead, to show how China's younger generation has stepped up to inherit and revive the ancient art.

If you go:
7:30 pm, May 6. Tianqiao Performing Arts Center, 9 Tianqiao South Street, Xicheng district. 400-635-3355.
Ticket: 99-380 yuan ($15-60)