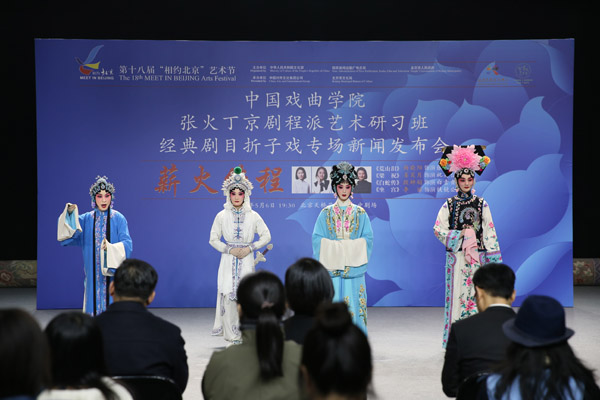 Four students of veteran Peking Opera artist Zhang Huoding meet the press in Beijing on March 22, 2018. From left, Yang Xiaoyang, Yin Chanjuan, Jiang Xiaoyue and Li Li. [Photo provided to chinadaily.com.cn]
Zhang Huoding is a famous name in the Peking Opera scene in today's China. The 47-year-old is an inheritor of the Cheng school - one of four major Peking Opera styles founded by late opera master Cheng Yanqiu (1904-58) that emerged in the early 20th century.
Though the 200-year-old art form has gradually lost its appeal to the general public in modern society, Zhang has performed sold-out shows both in and outside China, attracting audiences of all ages.
Starting in 2008, however, she took an academic approach to pass down the traditional art. For 10 years, she has been teaching at the National Academy of Chinese Theater Arts in Beijing, a leading school for traditional Chinese opera.

On May 6, four of her students will take center stage at the Meet in Beijing Arts Festival to show the charm and inheritance of the time-honored opera form among China's younger generation.