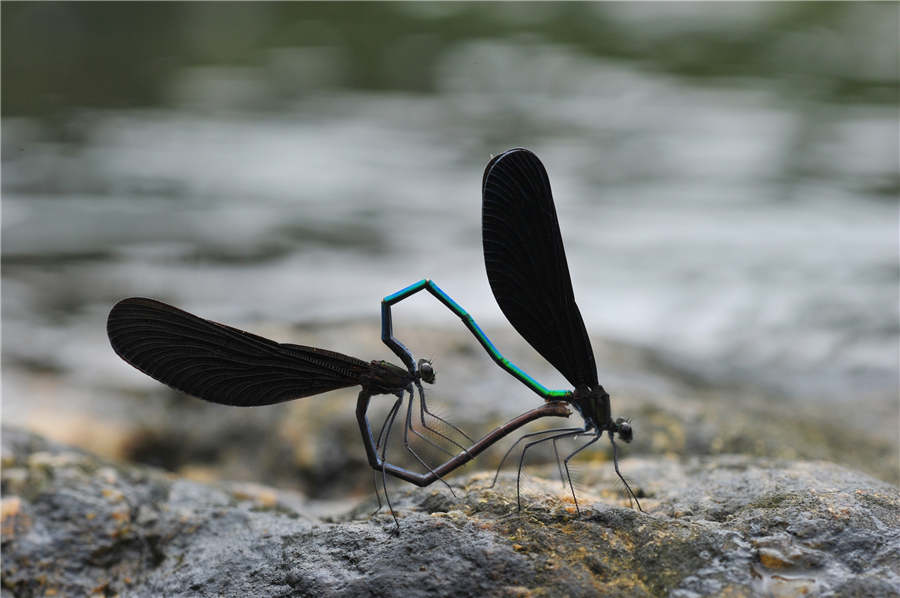 Yuan Minghui's award-winning photographs help people get up close and personal with the tiny insects. [Photo provided to China Daily]
Most of Yuan's images of flora and fauna are taken on the outskirts of Wuhan. When he was still working at the factory, it would take him just five minutes' walk to get to his subjects.
"I don't care whether the species is rare or not. If the subject touches me, I'll record the moment," he says.
He says his journey of discovery is not to find a new world, but to see it with "fresh eyes".
Yuan certainly enjoys searching for those moments.
Once, he took a photograph of a frog sitting on the edge of a lotus leaf. It was staring at the drop of dew at the center of its chosen pedestal, seemingly waiting for insects daring enough to drink at the spot.
"He was like a gourmet waiting to be served, so I titled it Waiting for Dinner," says Yuan. "It's fun to 'combine' nature with human behavior that way."
On one autumn afternoon, Yuan noticed some twisting, wild vines against the light after a downpour. The coiled tendrils began to remind him of treble clef musical symbols.
"I like to take pictures wearing headphones, listening to music," says Yuan. "The symbols sparked my imagination."
After about 100 takes, Yuan was satisfied with one photo showing the natural elements of plant, water and light, combined in perfect harmony. He named the photo Natural Harmony, which made him a finalist of the Wildlife Photographer of the Year in the plants and fungi category in 2014.