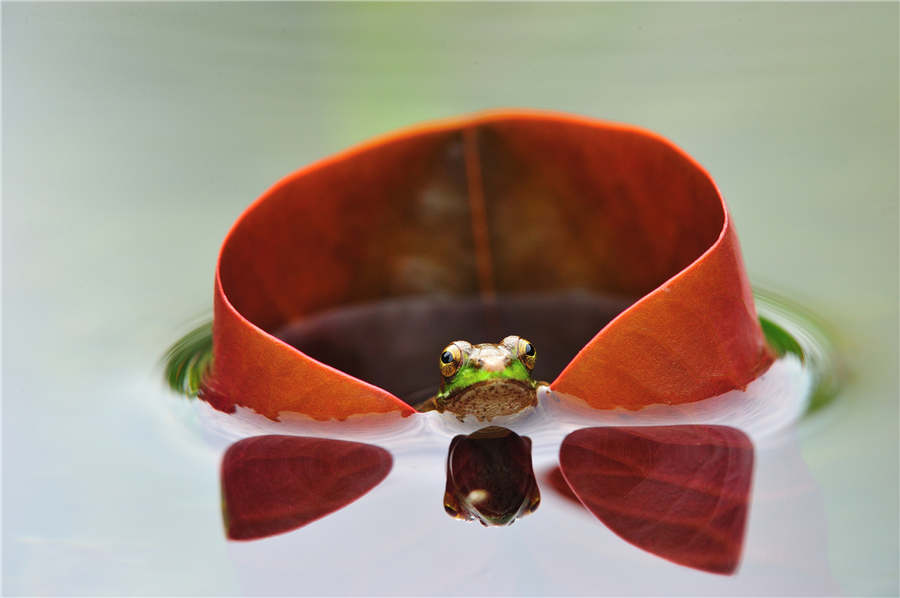 Yuan Minghui's award-winning photographs help people get up close and personal with the tiny insects. [Photo provided to China Daily]
Photography was just a hobby for Yuan when he worked in a pharmaceutical factory in the 1990s. In 1999, he decided to study artistic photography after many of his co-workers were laid off when the factory faced financial difficulties.
"I thought of opening a studio if I was laid off, but my friends and colleagues didn't think it would work," says Yuan.
In 2001, Yuan obtained his first camera lens for macro photography. When he saw how China's pioneering wildlife photographer and conservationist Xi Zhinong won Wildlife Photographer of the Year with images of the elusive snub-nosed monkey of Yunnan province, he was inspired to look at the natural world around him as well.
"There is magic in nature. The same place would look totally different after days and weeks," says Yuan.
Insects are also easily disturbed. But Yuan possesses the patience needed to study them and he takes years to observe the various habits of different species, such as their reactions to the slightest movement of the air around them.
Insects mating is one of the major subjects in his field. It is also one of the most challenging ones. Yuan once tried to shoot a certain type of dragonfly mating, which lasts for just a few seconds. It took him more than two years to finally capture the moment properly.
Plants can be just as daunting. When a pair of plants caught his eye for the way they were entwined-it took him three years before he shot satisfying photos of them "hugging" each other.