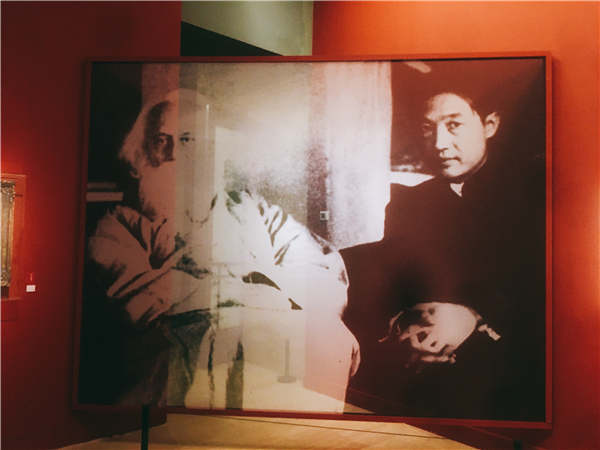 Xu with his longtime friend, Nobel laureate Rabindranath Tagore, in 1940. [Photo provided to China Daily]
The four paintings all measure more than 3 meters in length, and they are from the collection of the Xu Beihong Memorial Hall in Beijing, which was built from a family donation of artworks and documents after Xu died.
Wu says the show is the first time that the four paintings are being displayed together.
Xu Beihong's son, 72-year-old Xu Qingping, says the paintings were in a critical condition in the late 1970s, with pigment falling off, but government support allowed the memorial hall to bring in a French restoration team.
"My father would be quite happy if he could see these works now," he says.
The current NAMOC exhibition also has other major pieces from Xu's repertoire. Most are on loan from the Xu Beihong Memorial Hall.
One notable work is Baren Jishui (People in Chongqing Drawing Water), a 3-meter-long ink painting produced in 1937. It shows people in Chongqing, a mountainous city, climbing flights of stairs to fetch water from rivers.
Wu says the work reveals the humane side of Xu, who came from a humble background, growing up in rural Jiangsu province in East China.
The painting was first displayed at an exhibition in Chongqing in 1938. Xu's wife, Liao Jingwen (1923-2015), recalled that it moved many in the audience including an Indian diplomat who wished to buy it.
Since the painting was inscribed with "a gift to my beloved wife", Xu painted an identical piece for the diplomat.
The painting fetched 171 million yuan ($26 million) at a Beijing auction in 2010.
In his works, Xu portrayed not only ancient heroes but also animals.
His depiction of galloping horses is a familiar scene to many Chinese.
Hua Tianxue, a researcher with Beijing's Chinese National Academy of the Arts, says that, unlike in many other paintings, most horses in Xu's works are standing or running, looking like warriors.
The paintings at the NAMOC exhibition also feature flying eagles, roaring lions, vultures searching for prey and roosters standing atop rocks.
"His works are a testimony to what he often said: 'People may have no pride, but cannot live without integrity'," Wu says.
If you go
9 am-5 pm, closed on Mondays, through March 4. 1 Wusi Dajie, Dongcheng district, Beijing. 010-6400-1476.