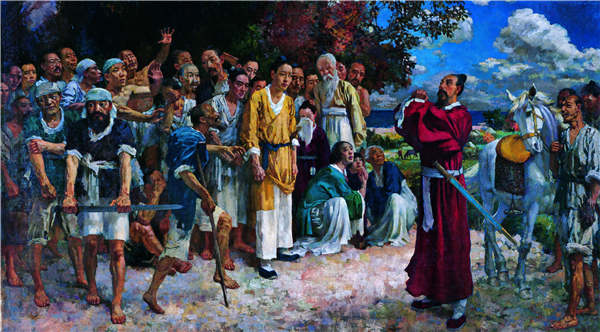 Tian Heng and His 500 Retainers (1930), a work based on ancient Chinese literature. [Photo provided to China Daily]
Sketches of these Indian models are also on show at the NAMOC exhibition, as are portraits Xu did for Tagore and Mahatma Gandhi, besides Indian landscapes.
In the paintings, Xu also added elephants as carriers of materials, rather than cattle, which were more common in China at that time.
Explaining why he used Indian models, Xu said: "Both the Indians and the Chinese work industriously. We may have different looks but we share the same beliefs."
Xu said the idea to do a work on Yugong Yishan had been in his mind for two decades, but he was motivated to start working on the project by the construction of the Burma Road in the late 1930s.
The road linking Myanmar and Southwest China's Yunnan province was of strategic importance to convey supplies to China during the War of Resistance Against Japanese Aggression (1931-45).
Then, tens of thousands of Chinese workers and engineers participated in the project, using primitive tools, and many lost their lives because of the hazardous terrain.
Xu completed the paintings to pay tribute to the builders whom he hailed as "modern-day Yugong".
Heroism and romanticism are recurring themes in Xu's major works, which he developed during his studies at the National High School of Fine Arts in Paris and while traveling in Europe in the 1920s.
The director of the NAMOC, Wu Weishan, says Xu adopted the grand-narrative approach of classic European paintings to depict the gallantry of figures in ancient China. He sparked patriotic feelings among fellow Chinese and asked them not to give in to invaders and oppressors.
Besides the Yugong Yishan works, Xu also painted Tian Heng and His 500 Retainers and Xi Wo Hou, two oil works both based on ancient literature. And the two works are also on show at the NAMOC exhibition.
While the former work is about a nobleman named Tian Heng mentioned in Shiji (Records of the Grand Historian), whose suicide drove his people to take their lives, the latter is about suffering under the tyrannical rule of the Xia Dynasty, as described in Shangshu (The Book of Documents).