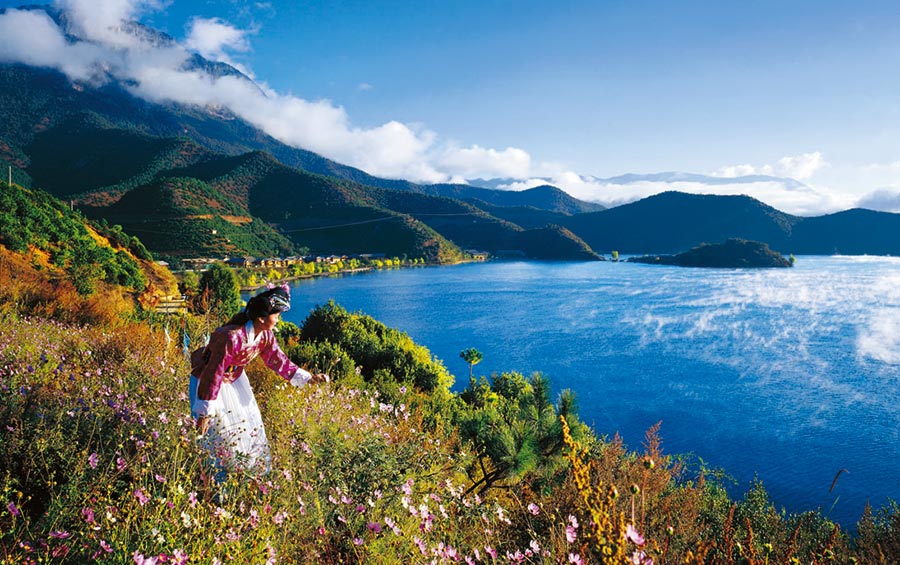 Lugu Lake and Mosuo woman [Photo/Courtesy of In Search of the Forgotten Kingdom]
We spent that night in Lige village, which is located on one of the most beautiful of these pearls. Climbing up to the viewing platform, we enjoyed a panorama of peaceful Lige Island casting a clear silhouette on the lake under the blue sky and white clouds. Lige is home to more than a dozen Mosuo people living in apparent matrilineal family harmony. Our lakeview rooms at the Mosuo Inn offered us exquisite night views of a sky full of stars.
The next morning, a visit to a village lengfeng raised a curtain on the mysteries of matriarchal society. Traditionally the Mosuo live in clan houses with their matrilineal families, from the cradle to the grave: earnings are controlled by the family's female head, the dabu. During the day, men live and work with their maternal families while at night they go to their lovers in their homes. We entered the main room of the lengfeng that houses the "fire pit", which is the front stage of Mosuo living, cooking, eating and gatherings. Besides this central area were chambers where elder women and children live, although the "grandmother chamber" was traditionally off-bounds to visitors.