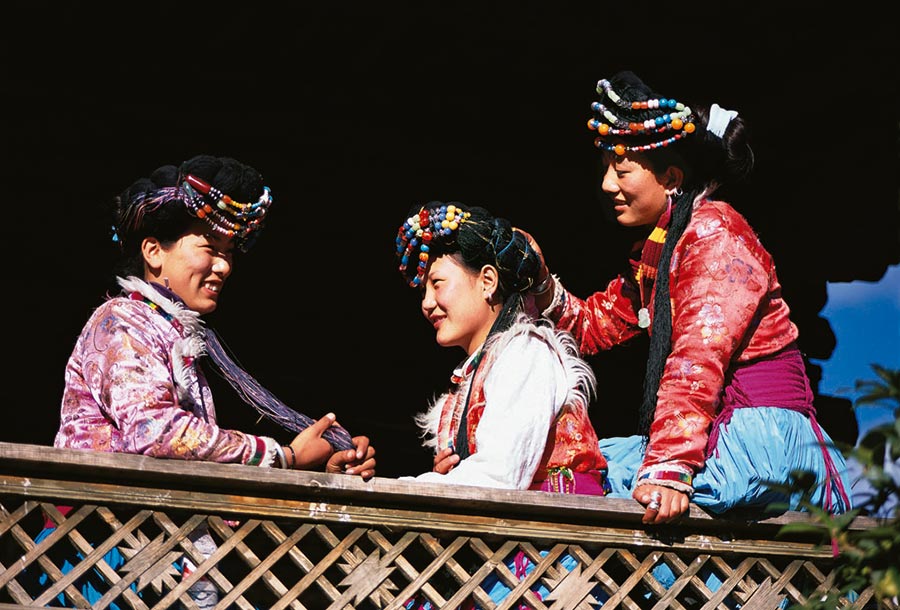 Mosuo women favor collar and cuffs and pleated ankle-length skirts, and seem to love a bit of bling. [Photo/Courtesy of In Search of the Forgotten Kingdom]
The bus came down to Luoshui village with its clusters of characteristic Mosuo lengfang - chic yet orderly Mosuo houses. We reached the lakeside and found a curved gravel promenade with weeping willows which was described as a "Mosuo style road" and offered Mosuo-themed guesthouses, boat tours and bonfire parties. Our simple room was not warm on that winter's night but the balcony had a table and great views of the lake: I guessed it would be a decent place to sit and write a novel.
Like most of the village's guesthouses and restaurants, our inn was run by a Mosuo family. The men wore wide-brimmed felt hats, gold pants, a belt with a knife, and boots with trousers folded into them, hinting at their nomadic herdsmen tradition. The women favored collar and cuffs and pleated ankle-length skirts, and they seemed to love a bit of bling. The Mosuo famously have sexual relationships called Tisese, sometimes referred to as "walking marriages". Tisese differs from conventional marriages in that men and women as couples do not generally live under the same roof; neither do they have contractual relations to each other. However we had read that the term matrilineal does not reflect the full complexity of their social organizations.