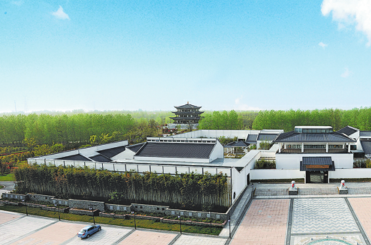 The China Huaiyang Cuisine Culture Museum [Photo by Chen Guangxi/for China Daily]
The China Huaiyang Cuisine Culture Museum, located in Qingjiangpu district of Huai'an city, contains details of typical Huaiyang dishes, showing the evolution of Huaiyang cuisine.
The museum, which opened to the public in October 2009, is the biggest of its kind in China with food as its theme.
The facility, covering an area of 6,500 square meters, consists of four zones including a river pavilion, a dish pavilion, a folk culture pavilion and a culinary skills pavilion.
The building complex represents Chinese culture, blending the building style of Chinese yards and parks.
The museum provides scope for appreciation, entertainment, learning and participation.
The pavilions introduce Huaiyang cuisine and the Huaihe and the Yellow rivers cultures. There, visitors can also learn cooking skills and taste food specialties.
Huaiyang cuisine, one of the four major cuisines in China, features fine ingredients, delicate culinary processes, exquisite knife skills, style and flavor.
Huai'an, with abundant natural ingredients, was pivotal in the development of Huaiyang cuisine. And although there are several branches of the cuisine, such as Suxi cuisine (based in Wuxi and Suzhou) and Jinling cuisine (in Nanjing), Huai'an is still one of its main centers.
Huai'an also traditionally played an important role in the development of Huaiyang cuisine, due to its location near the Beijing-Hangzhou Grand Canal and Huaihe River. Now, the annual Huaiyang food festival helps popularize Huaiyang cuisine.
Meanwhile, the museum also showcases the history of Huaiyang cuisine, which dates back to the Spring and Autumn Period (770-476 BC), and covers the Sui (581-618), Tang (618-907), Ming (1368-1644) and Qing (1644-1911) dynasties.
In its displays, the museum feature pictures of famous Huaiyang dishes and dim sum from different periods and books about Huaiyang cuisine.
The museum also features models of Yangzhou fried rice, sauteed shelled shrimp, meatballs with crab meat and other well-known specialties.
Liu Maomao contributed to this story.