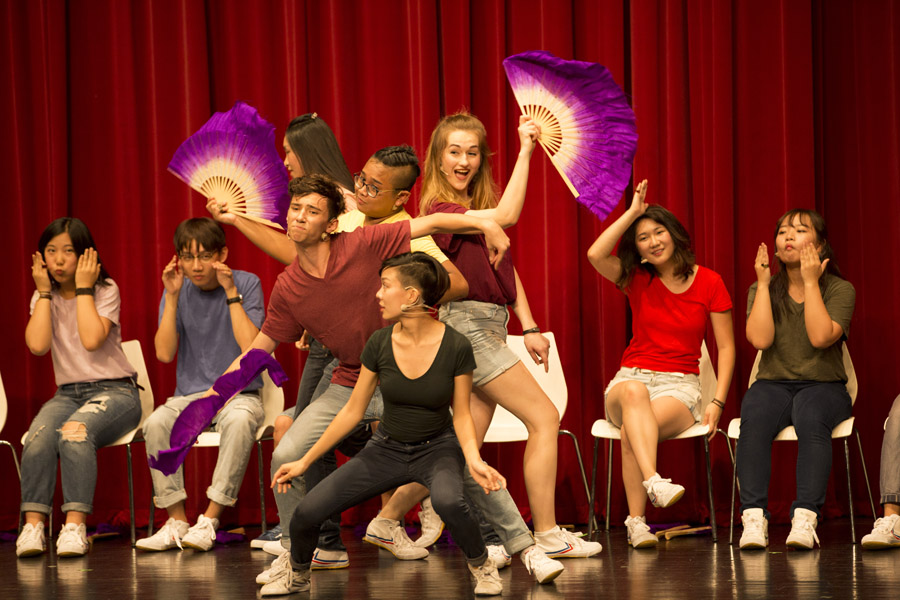 International students tour together and perform onstage at New York University Shanghai. [Photo provided to China Daily]
East meets West
Unlike traditional universities, most joint-venture universities adopt Western teaching philosophy and incorporate it with Chinese elements.
Three years ago, UK student James Bromley found out about New York University Shanghai and became interested in pursuing a liberal arts education in an Eastern culture.
"I thought it was the perfect match between a quality undergraduate education and a completely new cultural experience," says the senior political economy major.
Bromley spent the first of his two study years taking a wide range of classes including economics, science and Chinese arts. He was exposed to different professors in various fields of interest.
Later, he designed his own study track by combining political science and economics within the social science framework. "That really makes me passionate about studying," he says. "If I stayed at home in the UK for university, it'd be just a three-year process. From day one, you just go straight into academics. There's no flexibility with what you're learning."
The university also offers students Chinese courses, which incorporate both language learning and cultural learning. Students are required to reach a certain level of Chinese proficiency before graduation.
"Western education in the social sciences often focus exclusively on thinkers and theories," Bromley says. "I'm exposed to a different angle by studying it in China and you're constantly aware of the East and thinkers and different forms of economy."
NYU Shanghai is not alone. Xi'an Jiaotong-Liverpool University has also been combining the flexibility of US higher education, the British quality control system and the emphasis on fundamental studies in Chinese education.
"Joint-venture institutions offer a soft landing for international students," says Chris Rudd, provost of the University of Nottingham Ningbo China.
"Academic standards, processes and pedagogy should be familiar to them, but they would also expect to benefit from exposure to local language, culture and business context as well as the opportunity to learn informally from Chinese classmates."