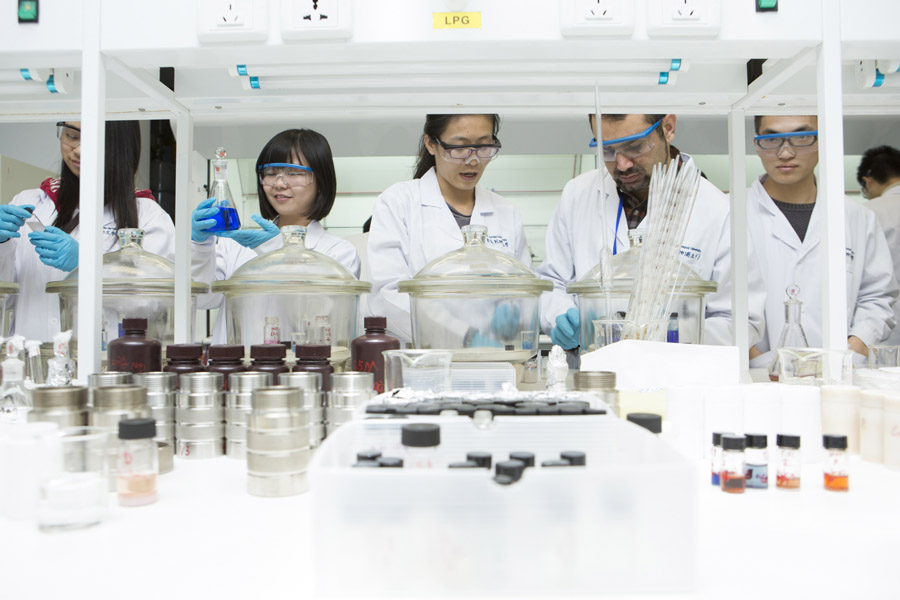 International students do experiments in labs at Xi'an Jiaotong-Liverpool University. [Photo provided to China Daily]
Since the establishment of the University of Nottingham Ningbo China, the country's first joint academic venture institution in 2004, there have been seven joint-venture universities of independent legal entities approved by the Ministry of Education.
"China is fulfilling its promise to open up the education market after joining the World Trade Organization. That makes these Sino-foreign joint-venture universities possible," says Xi Youmin, the executive president of Xi'an Jiaotong-Liverpool University in Suzhou, Jiangsu province.
"Education is an international experiment. It also meets the need for cultural exchange and research."
Establishing a joint-venture university in China also meets many foreign universities' goals of global expansion.
"Globalization is part of the strategic plan for Kean University," says Philip Connelly, executive vice-chancellor of Wenzhou-Kean University.
Connelly says setting up a campus in China can globalize the curriculum of the US university in terms of substance and quality as well as provide "a world of opportunities" to its students and faculty.
After spending several years studying the higher-education market, joint-venture institutions are attracting an increasing number of international students who want to pursue higher education in China.
In 2012, Xi'an Jiaotong-Liverpool University had only 14 international students. But the number has gone up to about 700. At New York University Shanghai, international students make up about half of its enrollment.
In recent years, Xi'an Jiaotong-Liverpool University has been receiving more than 4,000 applications from international students each year. The annual tuition fee for international students is 88,000 yuan ($13,264), and the school also offers scholarships.
"Demand is increasing a lot," says Kirsty Mattinson, director of XJTLU Global, which handles Xi'an Jiaotong-Liverpool University's international student recruitment and support.