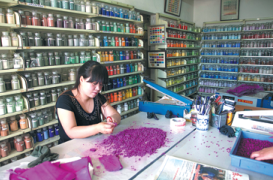 A worker at Wang's workshop produces painting pigments used in yancaihua.[Photo provided to China Daily]
Wang visited mining sites across the country to find suitable raw materials.
"In order to get all the rocks for making the pigments, I went to every province and region in China," says Wang.
Now, the Tianya Mineral Pigment Art Center produces mineral pigments with more than 3,000 different colors.
Wang also lectures at major art academies in China.
Since 1998, he has taught more than 1,000 students how to draw with the mineral pigments and organized annual tours to Dunhuang and Xinjiang to study the murals.
Wang also offered a yancaihua major at the Xu Beihong Arts Research Academy of Renmin University of China in 2006.
In 2009, his alma mater, the China Academy of Art, invited him to teach the tradition.
"I am reminded of the many facets of colors in Chinese painting every time I go to Mogao and Kizil," says Wang. "Chinese traditional painting is certainly more colorful than just ink and water."