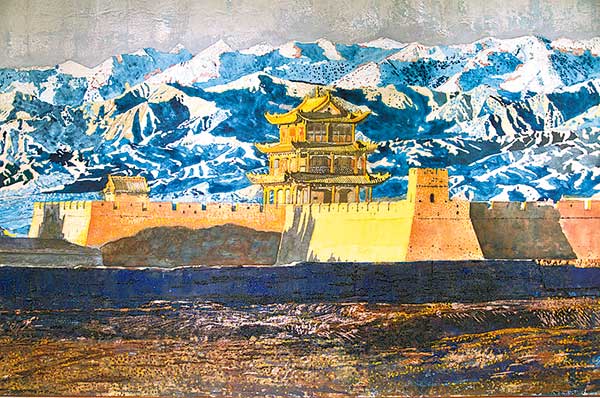 A yancaihua painting of Jiayuguan, an ancient city gate in Gansu province, by Yu Lyukui, Wang's wife.[Photo provided to China Daily]
Chinese painter helps revive traditional art form.
Mention traditional Chinese painting and many people will think of the ink-wash type, which mainly uses ink and water to depict objects of different shades, from black to gray and white.
But for painter Wang Xiongfei, these kinds of paintings seem to lack color.
So for more than two decades, he has been promoting an alternative form of painting called yancaihua.
Yancaihua, which literally means "rock color painting", saw its heyday in the Tang Dynasty (618-907). It uses pigments made from rock and earth, including turquoise, malachite and lapis lazuli gemstones.
In contrast to ink paintings, yancaihua features a wide range of colors and glittering particles contained in mineral pigment.
"It's an ancient painting form and can be seen in the Mogao Caves of Dunhuang in Gansu province, and Kizil Caves in the Xinjiang Uygur autonomous region," says Wang, 56.
"But the technique was lost in China as ink painting became the major form in the Song and Yuan dynasties."