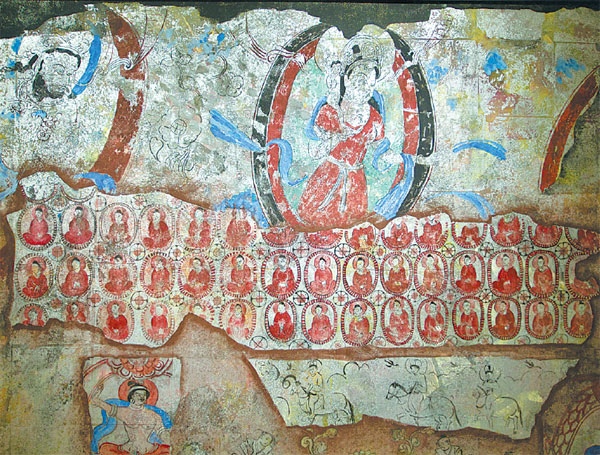 A mural by Yu Lyukui about Damagou Grotto, an ancient Buddhist site in the Xinjiang Uygur autonomous region.[Photo provided to China Daily]
Wang, who is the director of the Yancaihua Research Institute at the China Academy of Art, is now trying to revive that tradition through education and exhibitions.
From Sept 5 to 15, he organized a Silk Road Yancaihua Exhibition at the Tang West Market Museum, which displayed about 100 such works.
The exhibits were from the Chinese painters who studied with him in the past 20 years.
Wang is also curating an annual yancaihua exhibition on a larger scale in Hangzhou, capital of Zhejiang province, from Sept 24 to Oct 13.
But back in the 1980s, Wang, like most Chinese painters, first focused on the ink-wash form when he was studying traditional painting at the academy.
At that time, few Chinese painters knew about the painting tradition, even as the technique was widely used by Japanese painters.
Wang chanced upon a collection of Japanese paintings in the library and was amazed by the brilliant colors used in them.
He decided to go to Japan to learn that form of painting.