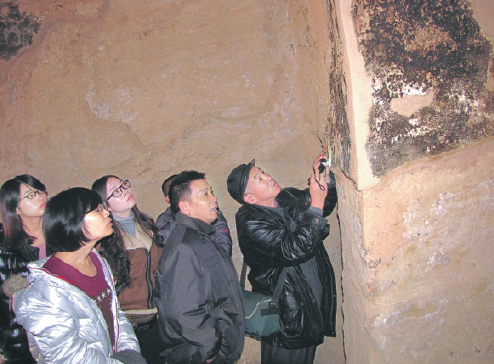 Wang Xiongfei (right) leads his students on a visit of the Kumatula Cave in Xinjiang.[Photo provided to China Daily]
"Japan inherited that painting style from Chinese artists during the Tang Dynasty," says Wang. "However, it is called nihonga in Japanese, which literally means 'Japanese painting'."
Wang studied with renowned Japanese painter Matazo Kayama at Tama Art University in Tokyo from 1989 to 1993.
"When I told Kayama that I wanted to study nihonga, he said to me that this type of painting is originally from China," recalls Wang.
"But we had lost that tradition and I, as a Chinese, had to study it in Japan and bring it back to China."
Wang also encouraged his wife, Yu Lyukui, to study with him.
"Originally, I was studying design, then I switched to yancaihua as well," says Yu, who studied painting with Yasumichi Ichikawa, the former vice-president of Tama Art University, in 1990.
"I was mesmerized by its colors as well, it gave me more ways of expression in painting."
Once they learned the techniques, the couple returned to China in 1993 and founded the Tianya Mineral Pigment Art Center in Beijing.
First and foremost, they needed to produce the special painting pigments in China because importing them from Japan was too expensive.