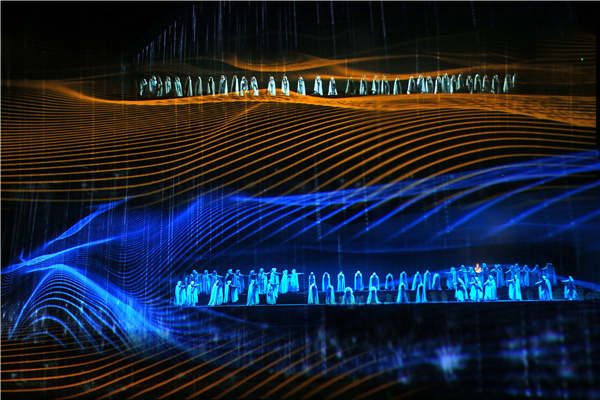 [Photo provided to China Daily]
As of now, almost half of the tourists visiting Dunhuang are foreigners, according to the local government.
Lothar Fickert, a professor from Germany, who visited Dunhuang for the first time, watched the play with his wife the day he arrived.
He says he had no problem with the play although it involved history that he was not very familiar with .
"It's gorgeous! The picture-like performance speaks for itself. It's done in a very tasteful way. Good pictures, " he says, adding he will recommend it to his friends.
The director is confident about her show which allows people walk while watching it and stop for the last part-to sit down in a real auditorium.
"From the 'model' show and caves full of Buddha statues, to different dynasties, I have to direct not only the performers but also the audience," says Wang.
"I let them witness history in a vivid way, and feel that everything will be buried in the sand as time passes by," she adds.