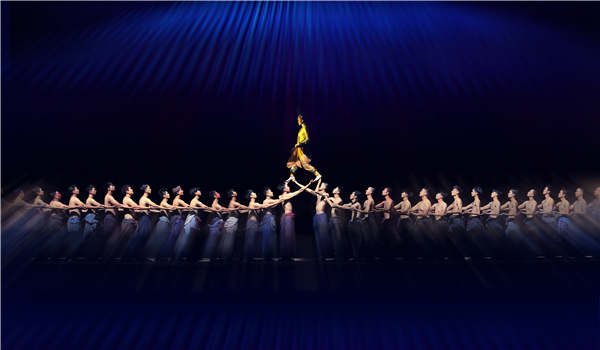 The performance features flying Apsaras based on the murals of the Mogao Grottoes.
The highlight of the show, however, is in the second room, when the audience gets to meet Wang Yuanlu, the Taoist priest, who is seen in China as a villain for selling China's Buddhist treasures from Mogao Grottoes to foreigners at the beginning of the 20th century.
The Taoist talks about how he was forced to sell the treasures as he was unable to get help to protect the manuscripts.
He says the foreigners, including British archaeologist Aurel Stein, to whom he sold the manuscripts, promised to use them for research and protect them.
Wang then begs for forgiveness from the Buddha figures in the caves and he is forgiven.
The other rooms show the daily lives of people living in the Tang Dynasty-from dancers to scholars writing calligraphy.
Speaking about the challenges of doing such a show, the director Wang Chaoge says: "It's easy to tell a touching love story, or a story about a historical figure. But it's very difficult to put on stage the whole history of a well-known city, covering 2,000 years."
Revealing how she prepared for her current assignment, which was launched on Sept 20, she says for the past two years she read many books on the history of Dunhuang.