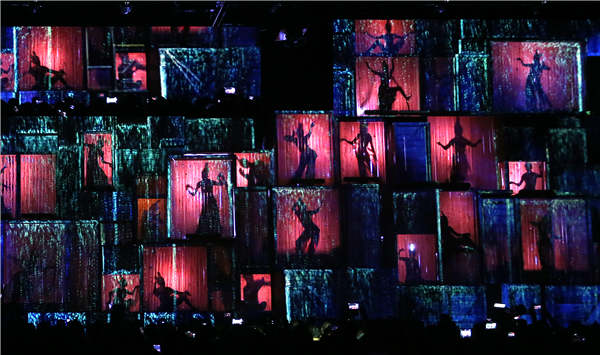 [Photo provided to China Daily]
Before Encore Dunhuang, Wang had produced many tourist shows for many cities in China, such as Pingyao in Shanxi province, known historically for its rich businessmen, and Wutai Mountain, also in Shanxi province, known for its temples.
Many of them were outdoor performances. But, as for the Dunhuang production, the performance is staged in a huge glass theater due to the difficult weather conditions.
The theater, which looks like a drop of water in a dessert, was designed by architect Zhu Xiaodi.
For Wang, the current collaboration with Zhu is her second venture with him.
He had also designed a theater for her play Encore Pingyao in 2014.
The Dunhuang water-like theater is said to have cost 600 million yuan ($90 million).
The show, for which tickets are priced at 298 yuan, is in Chinese, and the director says she has no intention of providing an English translation as she believes people can understand it despite not knowing the language.