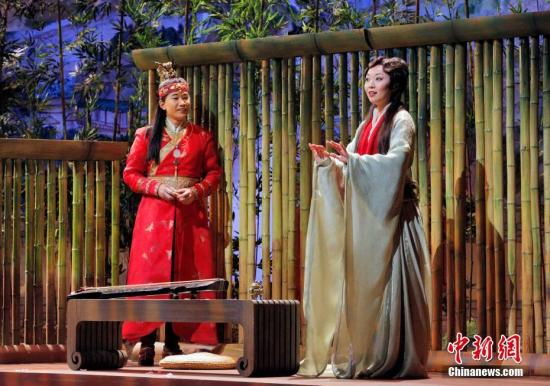 The Dream of the Red Chamber 's English opera adaptation was put on stage in San Francisco on Sept 10, 2016. [Photo/Chinanews.com]
Chinese literature classic The Dream of the Red Chamber saw its English opera adaptation premiere in San Francisco on Sept 10.
Singers from China, South Korea and the US performed the opera in English for the 3,000 people in the audience. Chinese subtitles were provided in the theater.
It took the creators three years to adapt the original work's 120 chapters into a two hour, 20 minutes opera.
David Henry Hwang, the opera's librettist, minimized the original number of the characters to only seven, and took the love triangle of Jia Baoyu, Lin Daiyu and Xue Baochai as the core story line.
Before the performance, six lectures and meetings were held to foster communication with the opera's crew.
Composer Bright Sheng used traditional Peking Opera musical instruments to present the inner world of the characters on the stage.
"The Dream of the Red Chamber is an internationally appealing work, and I believe the love and family tragedy in the book will attract a lot of people," Sheng said.
Shi Yijie from Shanghai played the role of Jia Baoyu and Korean singer Cao Qing played Lin Daiyu.
"The book has another name, The Story of the Stone. My surname 'Shi' means 'stone' and people have being calling me 'stone' since when I was a child. And I guess it might be my destiny to perform the opera," Shi said.
After six performances in San Francisco, the opera will be staged in Hong Kong in March 2017. The Chinese version of the opera is expected to be performed in Beijing soon.