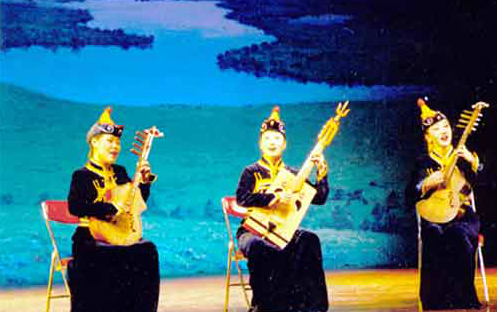 [Photo/Chinaculture.org]
Hugjiltu, 54, is a Chinese singer of Mongolian ethnicity. He learned Hoomii, a Mongolian singing style, by a quirk of fate but has since become a vocal advocate for this part of his ethnic group's cultural heritage. His chorus appeared at the closing ceremony of the Fourth Asia Arts Festival, the Fourth World Choir Games and other international musical events. In 2009 the ensemble Sound of the Blue, of which Hugjiltu was a member, participated in a Hoomii symposium and contest in Ulaanbaatar, and won third prize. Hugjiltu received a special honor from the Mongolian government for his contribution to the development and heritage of culture and arts. In 2013 Hugjiltu was recognized as an inheritor of China's national intangible cultural heritage.
HOOMII (Khoomei), or throat singing, is a vocal art where one person simultaneously sings two pitches up to six octaves apart, a rare feat. Named a "living fossil of Mongolian folk music," it is lauded as one of the "three treasures of the grassland," the others being the Long Song (Urtiin duu) and Horse-head Fiddle (Morin khuur).
Hugjiltu, chair of the Hoomii Association of Inner Mongolia, is one of the best known Hoomii singers in China. In his understanding, throat singing pays homage to Mongolian ancestors and their history. "Its pitch can dive from the top of a mountain to the bottom of a valley in a split second, and then soar as steeply and fleetly again," he explained proudly.
Hugjiltu was formerly a bass with the Inner Mongolia Broadcast Art Troupe Choir. He had been working for 18 years when he became enchanted by Hoomii. In 1996, he and a group of other young Mongolian artists headed for Sydney for the Fourth World Choir Games. At a symposium on Mongolian music, one of the speakers claimed that the two icons of Mongolian music were the Horse-head Fiddle and Long Song. Someone in the audience disproved, "No, there is one more, Hoomii," to which he added a brief on-the-spot performance. This incident impressed Hugjiltu. "It was not until that moment that I realized that Hoomii was a treasure of my people that was recognized worldwide–and it was so wonderful."