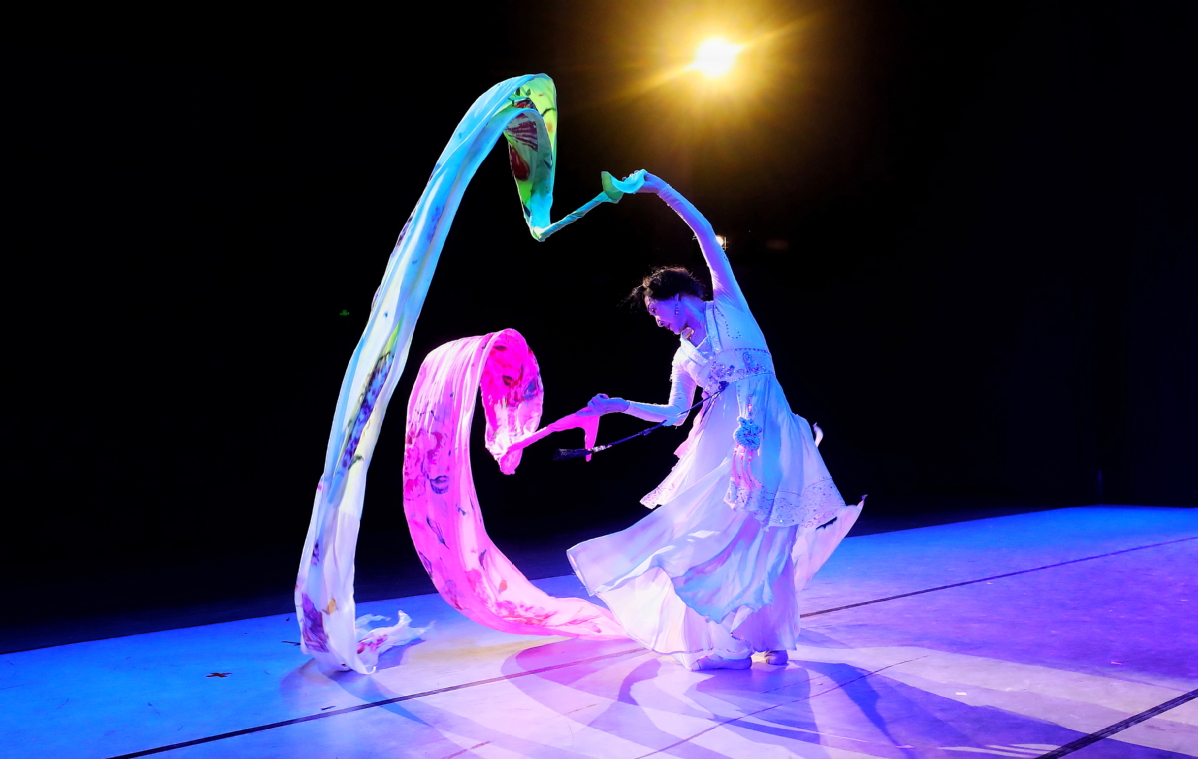 Chen plays Lin Daiyu, the leading role in the dance drama Dream of the Red Chamber, last year in Beijing, when she was 80. JIANG DONG/CHINA DAILY
Legendary performer dies at her home in Beijing at 81
Prominent dancer-choreographer Chen Ailian, whose career spanned seven decades, died from cancer at her home in Beijing on Saturday. She was 81.
Known for her dedication and professionalism, she was among the first group of students in New China to train as traditional Chinese dancers.
As one of the art form's leading figures, Chen was also a devoted dance educator. She served as vice-president of the Chinese Dancers Association and headed the Chen Ailian Arts Troupe, which she founded in 1989, and the Chen Ailian Dance School, which she formed six years later.
One of her daughters, Chen Jie, who is also a dancer, said: "She was not only a mother, but also a great role model to me. She has left a huge dance legacy, and we will always miss her."
Chen Jie said that before she died, her mother donned the costume she wore for the leading role of the Chinese dance drama A Moonlit Night on the Spring River, which premiered in 1962.
Chen Ailian's performance in the production, which is based on Tang Dynasty (618-907) poet Zhang Ruoxu's work of the same title, won her four top prizes that year at the Eighth World Festival of Youth and Students in Helsinki, the Finnish capital.
Born in Shanghai in 1939, Chen Ailian loved to watch movies as a child and dreamed of becoming a film actress. When she was 10, her parents died and she grew up in an orphanage.
One of her early memories of dancing came in 1949 after the founding of the People's Republic of China.
In an interview last year, she said, "There were many art troupes celebrating on the streets and I was drawn to a group of dancers who were performing the moves of the Oroqen ethnic group (from Northeast China).
"One of the dancers bent her body while waving her arms. The way she moved was so beautiful and I imitated her actions. One of my teachers said I had the talent to become a dancer.
"At the time, I knew nothing about dancing. I just felt happy and had fun when I danced."
In 1952, Chen Ailian received training in traditional Chinese dance. The same year, she watched the movie Stars of the Russian Ballet, directed by Gerbert Rappaport, which features scenes from three ballets based on Russian classics.
One of the performances featured in the movie is The Fountain of Bakhchisarai, in which Russian ballerina Galina Ulanova plays the role of Maria, a beautiful Polish princess who is kidnapped and becomes an unwilling love interest for a merciless invader of her homeland who murders her family.
Chen Ailian described this portrayal as "a life-changing experience".
"When Maria met her death, the ballerina played the role by drooping against a wall on both pointes and sliding, turning her feet so that they sank against the floor," she said.
"She danced like a withering flower, transcending any words. From that moment, I wanted to be a great dancer like Ulanova."