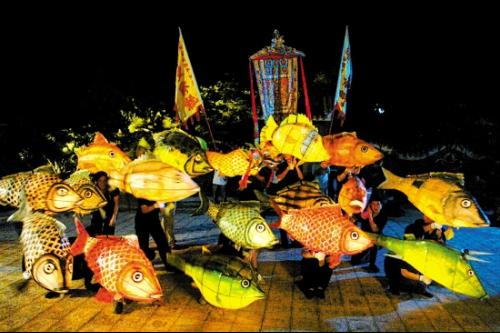 Fish Lantern Dance is a folk tradition popular in the suburbs of southern China's Guangdong province.[Photo/CNTV]
Fish Lantern Dance—a folk tradition very popular in the suburbs of southern China's Guangdong province—has seen a revival recently, thanks to a group of avid villagers. The fact that it was recognized as a national intangible cultural heritage years ago was a booster shot in the arm for the endangered art tradition.
Wu Guanqiu, 73, is an inheritor of the Fish Lantern Dance. Taking steps while carrying the lantern to make it imitate fish moves, the unique dance routine otherwise might have slipped into oblivion, without the efforts by villagers such as Wu.
Wu now has more than 200 disciples, including art performers, teachers, college students and frontier guards. And Shatoujiao, a rural village in Shenzhen, where Wu lives, has had a performing team of 30 people. He is lovingly called Uncle Wu by villagers.
Fish Lantern Dance originated in neighboring Fujian province in the Tang Dynasty, more than1,000 years ago. It spread to the Shenzhen suburbs during the late Ming Dynasty and soon became a fixture in new year celebrations of the fishing villages in the region.
The dance is performed with a team of about 20 men carrying the fish lanterns to imitate the lives of a group of fish, aiming to wish for peace and harvest of the local fishermen.
The dance is gaining in popularity thanks to the memories kept by Wu and several of his peers. Wu even raised a group of fish to research their movement to enrich the dance. The dance, as it is now performed, includes plots of lives of fish and their fight with fish tyrants (giant and bully fish) of the sea.