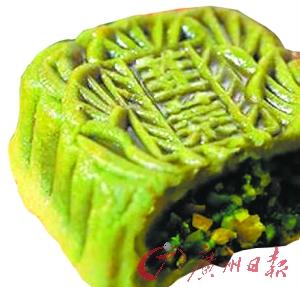 Mooncakes with a leek and scrabled egg filling arouse controversy in the country. [Photo/Guangzhou Daily]
Many pastry stores try to attract customers' attention through unusual tastes. Coffee mooncake is among them. Chefs make the filling with ground coffee to achieve a combination of Chinese and Western elements.
Leek with scrambled egg is a popular filling for Chinese Jiaozi (dumpling). But for the first time, leek is being used for the traditional Mid-Autumn day dessert. The mooncake's taste and green color are arousing controversy in the country.