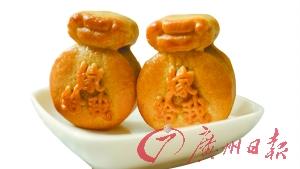 Some pastry shops have developed doll-shaped mooncakes with the characters "marry me". [Photo/Guangzhou Daily]
To please young people, some pastry shops in China's large cities fashion special festival treats, such as "courtship mooncakes". Chefs print a "declaration of love" on the surface of each moon cake, which are shaped like dolls.
Some shops make smaller sized "chess mooncakes" with printed characters on the surface. Consumers can play chess with friends on Mid-Autumn night while eating them.