Suzhou Kunqu Opera Theatre of Jiangsu Province originated with the Jiangsu Provincial Su and Kun Opera Troupe, which was established in 1956. Since its establishment, it has trained more than 100 Kunqu performers who are mainly divided into the four generations of "Ji", "Cheng", "Hong" and "Yang". Among the 400 performers, 96% of them are professionals. Wang Fang has been awarded Second Plum Blossom Prizes (an award to distinguished performers who have already won the prize once), and Yu Jiulin and Shen Fengying have both won the Plum Blossom Prize. Wang Fang, Tao Hongzhen, Yang Xiaoyong and Lyv Fuhai have won the Artistic Award for Promoting Kunqu Opera, presented by UNESCO. The theater has invited renowned Kunqu artists Wang Shiyu, Zhang Jiqing, and Cai Zhengren as guest art directors and other artists are also invited to give training classes to young performers. This has contributed to the inheritance and development of Kunqu opera.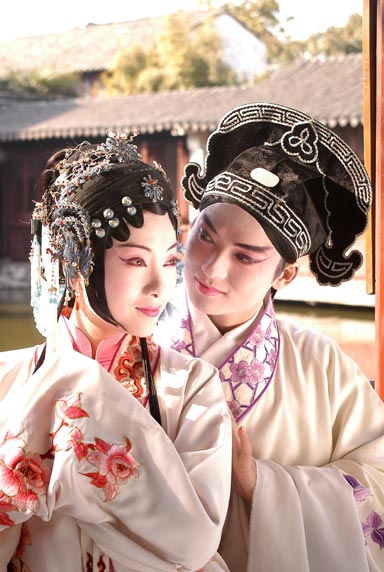 The theater is adept at performing various Kunqu repertoires, such as The Peony Pavilion, The Story of White Rabbit, The Romance of a Hairpin, The Palace of Eternal Life, The Injustice done to Dou E, The Story of Jade Hairpin, as well as 270 traditional Zhezixi (highlights from operas). The youth version of The Peony Pavilion, The Palace of Eternal Life, and The Story of Jade Hairpin has drawn lots of attentions and exerted a great influence on the development of Kunqu. The theater's performers have visited the US, UK, Italy, Greece, Japan, Singapore, Taiwan, Hong Kong and Macao, where performances were well received.

Suzhou Kunqu Opera Theatre, developed in the birthplace of the Kunshan tune, has maximized the potential of the exquisite and delicate Kunshan tune and raised it to a higher level.