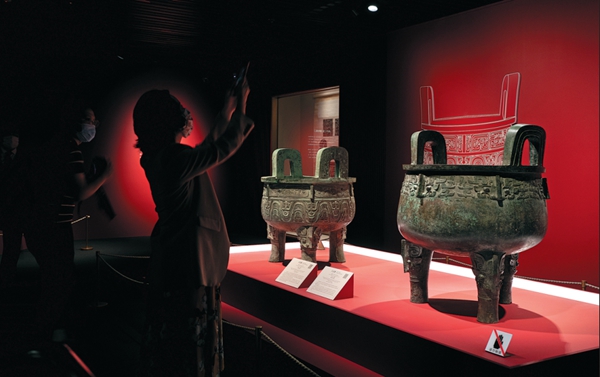 Two ancient Ding treasures, saved from turmoil, are reunited for a major exhibition, Zhang Kun reports in Shanghai.
Among 21 bronze vessels on show at The Perpetual Prosperity: Special Exhibition of Donated Ding to the Shanghai Museum, the two largest and most celebrated cauldrons used to belong to one family.
The exhibition, which started on June 19 and will run for a month, features bronze Ding, a food vessel widely used in sacrificial ceremonies in ancient China. Dating back to between the 13th century BC and the Warring States Period (475-221 BC), these 21 exhibits represent the evolution of bronze culture in ancient China, including its rise to prominence and the various turning points in development of styles and formation.
The Shanghai Museum had selected these 21 vessels from its collection of ancient Chinese bronze, one of the best in the world, for this exhibition. The exhibition is one of the events organized by the museum to commemorate the centennial of the Communist Party of China.
"All of them were donated by philanthropists, collectors and connoisseurs," says Yang Zhigang, director of the museum.
"We hope to take the opportunity to commend the donors, and honor their selfless contribution to the Party and the nation, their passion and dedication in collecting antiques, and their courage and strength in guarding these treasured pieces."