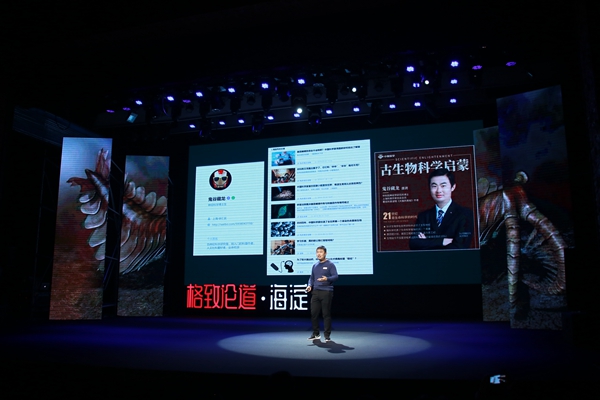 Couple gains legions of young fans on social media with animated videos on popular science, Cheng Yuezhu reports.
Paleontology is rarely the socially acceptable definition of fun, but a video series on fossils has recently captivated youngsters who find the portrayal of struggle for survival in a bygone world interesting.
These videos are created by Fun Stuff, a channel that has gained 1.9 million followers on online streaming site Bilibili by introducing scientific disciplines including paleontology, neuroscience and evolutionary biology to its viewers.
The producers behind Fun Stuff are Tang Cheng and Cai Chunlin, a couple who both majored in science disciplines at university, and have now devoted themselves full time to developing science media content.
Tang, who has a doctoral degree from the Institute of Neuroscience at the Chinese Academy of Sciences, says that he has been interested in various science topics from an early age, and paleontology is one of the disciplines that appealed to him particularly.
They first started translating and uploading science videos from English to Chinese, but these videos received merely several thousand views. By the end of 2018, the couple had set a goal. If their latest translated video got more than 20 likes, they would make an original video.
The goal was soon reached with the support of their followers, but the effort to make a video from scratch was extremely time-consuming. From beginning to end, the process of designing the video format, choosing a narration style, scriptwriting and editing the video sequence all took a lot of time.
Other than Tang's long-term interest in the discipline, the couple decided to make science videos on paleontology their first choice as pictures of ancient creatures will be more appealing to viewers.
Apart from reading academic literature on paleontology and ensuring accuracy of scientific facts, Tang also took time to watch and study other popular videos on Bilibili.
"We need to naturally integrate some popular memes into the videos. The narration needs to be clear and lively," Tang says. "The video needs to include transitions and effects, or it will just be a series of still images-like a slide presentation. We need to constantly grip the attention of the viewers."
After months of preparation, they uploaded their first original video on anomalocaris, or abnormal shrimp, an extinct species from the Cambrian period. In the video, the animal is described as the earliest hegemon, claiming supremacy of the primordial oceans for a long period of time.
Drawing analogies between the species and ocean wildlife such as whales or sharks, Tang talks about the animal's appearance, habits and characteristics, its evolutionary process and its gradual extinction using memes popular among Bilibili viewers.
The zealous narration style, clear explanation of scientific facts, and a connection with youth subculture soon made the video a hit. Within a day, the video was viewed nearly 100,000 times and won the channel 20,000 followers. Its popularity continued to rise, with the video now being watched over 3.6 million times.
Since then, Tang and Cai began making a series of original videos on the evolution of prehistoric creatures. Tang takes charge of researching, scriptwriting and recording, while Cai edits and uploads the videos.