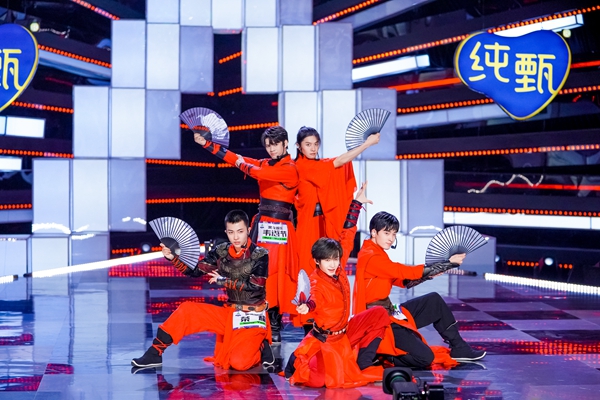 New talent show brings in competitors from other countries, as well as a harvest of friendship and cooperations, Xing Wen reports.
Talent shows are nothing new. The format seems familiar. A group of young hopefuls vie for a chance to make it big. Since 2018, the country's major streaming media platforms, such as iQiyi and Tencent Video, have been selecting participants from domestic entertainment agencies and producing the kind of programs that offer winners a stairway to stardom.
Viewer fatigue was always going to be a problem. It's difficult to keep the format fresh when, as a tried and tested formula, it's now approaching staleness. That's why the reality and talent show, Chuang 2021, produced by Tencent Video, has come up with a plan to bring in international candidates.
"The core of the show is based around cultural exchange and integration," says producer Duo Xiaomeng. "We want to present whatever creative sparks that may arise from the process of young people from different cultures chasing the same goal."
A total of 90 participants from countries, including Japan, Russia, Thailand and the United States, have been gathered together to live in the same dormitory building for several months.
They undergo intensive song and dance training together and collaborate with one another to stage performances. The top 11 trainees are drawn from the program's final tally of votes and will go on to form an international boy group.
During his debut on the show, Japanese participant Santa Uno, 23, who has won many world street dance championships, impressed the audience with his energetic freestyle routine, which displayed not just outstanding body control and balance, but also a strong sense of rhythm and innate physical grace.
Later, Chinese trainee Liu Yu, 21, dressed in traditional hanfu, performed a fascinating Chinese-style dance rich in grace and emotional expression.
The two dancers were then called out to freestyle together to the same background music. They carried off the task with aplomb.
The video clip of their dance went viral on social media as viewers marveled at the harmony between the pair, lauding it as an example of cultural integration.