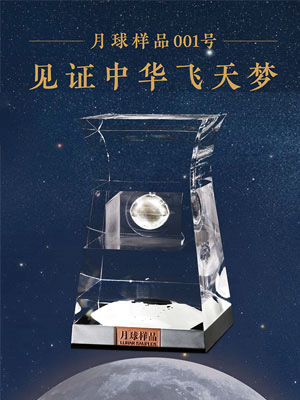 The traditional Chinese Qingming Festival, or Tomb-Sweeping Day, will begin on Sunday this year.
As the temperature rises, it is not only a solemn festival for sweeping tombs and offering sacrifices to ancestors, but also a festival for people to get close to nature, go on outings and enjoy the spring.
The three-day festival is just around the corner. Besides going on outings, there is another choice for you --- fascinating art exhibitions.
1. Lunar Samples No. 001: Witness of China's Space Dream
Exploring the vastness of the universe is the common dream of mankind. The Chang'e-5 return capsule landed safely on earth with a payload of 1,731 grams of lunar samples on Dec 17, 2020, representing China's first successful return of samples from an extraterrestrial celestial body.
The National Museum of China is holding an exhibition centered on Lunar Samples No. 001, displaying more than 40 scientific and technological objects related to the lunar exploration program, supplemented by a large number of pictures, dynamic images and videos.
If you go
Venue: West Hall, National Museum of China
No. 16 East Chang'an Street, Dongcheng District, Beijing 100006
Time: 9:00 to 17:00 (last admission at 16:00) and closes on Monday (except statutory holidays)