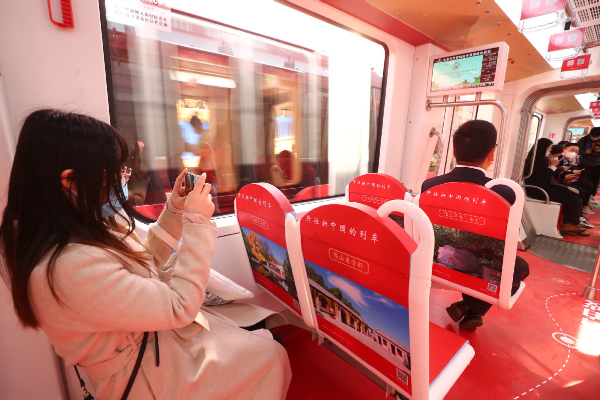 On the morning of March 25, a train where passengers can scan the QR codes in the carriages to read e-books about stories of the Red Army and the revolution departed from Bagou station to the Xiangshan Mountain stop in Beijing's Haidian district.
Former Red Army soldiers and role model CPC members were invited to be the first group of passengers taking the revolution-themed train which was designed to celebrate the 72nd anniversary of Mao Zedong and other former state leaders' arriving at Xiangshan Mountain where they made wise decisions that brought the revolution to a successful end and paved the way for the founding of the People's Republic of China.
Chen Jing, director of the culture and tourism bureau of Haidian district, said that the district boasts many sites that have witnessed historic events and milestones on the long course of the revolution.
The train also serves as a way to promote red tourism. It will pass many historic sites and cultural attractions in the district as it shuttles between Bagou and Xiangshan stations in the following three months, allowing tourists to know more about the revolution-related history of the district.