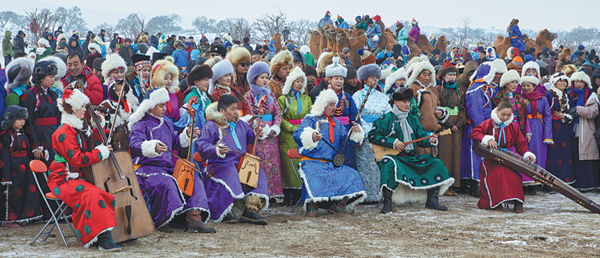 Inner Mongolia's remote corners provide the stage for entertainers ready to perform, Chen Nan and Yuan Hui report.
It was a hot summer's evening in 1993 and the sun had decided that its day's work was done. Gracefully it had descended and a breeze leisurely made its way across the grassland. Nature's stage was set and herdsmen living in the Zhenglan Banner of Xiliin Gol League in the Inner Mongolia autonomous region, stopped their work and gathered, with an air of expectation, for the arrival of the Ulan Muqir, or Red Bud Troupe.
Ulan Muqir means "red bud" in Mongolian and the art troupe travels from one site to another, performing for herdsmen who live in some of China's most remote areas.
Tergel, then a 6-year-old boy, first watched the performance of the Ulan Muqir of Zhenglan Banner along with his grandmother. Impressed by the offerings, including singing and dancing, Tergel couldn't wait to watch the performances again.
In 2005, Tergel, at the age of 18, trained as a singer at the Inner Mongolia Arts University and later joined the Ulan Muqir of Zhenglan Banner.
Besides performing as a singer, he also plays piano, bass and morin khuur (horse-headed fiddle), a traditional musical instrument of the ethnic Mongolian group.