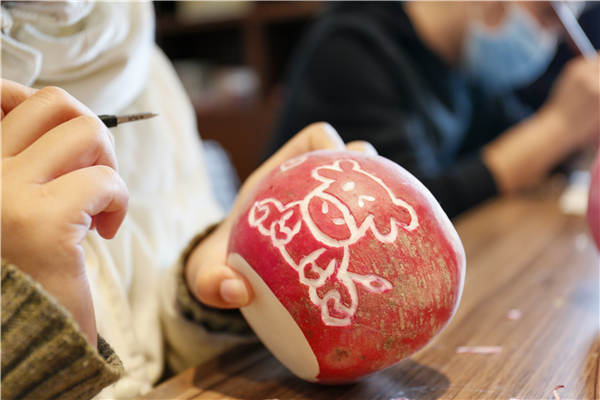 In recent years, the Chinese government has made great efforts in preserving and developing traditional art forms. The central and local government authorities are listing intangible cultural heritage and providing support to artists.
Zhou Chuanmei, 64, is glad that the pastry, made by patissiers at the Confucian Mansion, was listed as an intangible cultural project by the Qufu city government last year.
The line of culinary expertise can be traced back. The teacher of Zhou's father made pastry for Confucius' descendants. Zhou learned the techniques of making pastry from her father and has been making it for over 30 years.
"Confucius Mansion pastry must be made with fresh materials such as seasonal fruits," says Zhou, adding that no additives are used.
"We use honey to keep the pastry for a longer time," she says.
Zhou made tangyuan, a stuffed dumpling ball made of glutinous rice flour, for Lantern Festival, with one of her apprentices at the Confucius Museum on Wednesday. Their tasty product sold out quickly.
To enrich residents' life at home during Spring Festival, Qufu authorities opened a cloud platform to livestream the procedures of making Confucius Mansion pastry. More than 17,000 residents joined the livestreaming.
In recent years, Zhou has been making more pastry with vegetables and fruits.
"Tradition should be preserved. It's also necessary to embrace some new elements to keep the handicraft alive," says Zhou.
To help visitors understand the customs related to Spring Festival, the museum also holds exhibitions during the same period to showcase antiques passed down by Confucius' descendants, such as lanterns.
Qiu Jier contributed to this story.