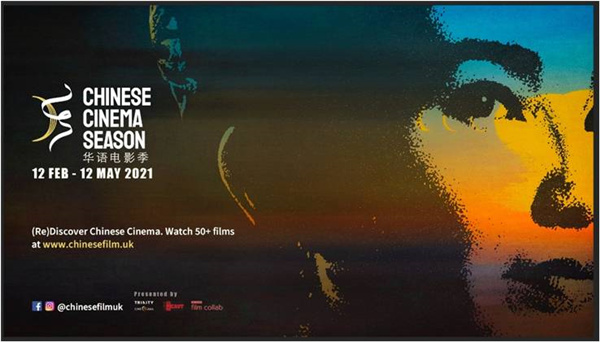 A three-month online screening event, Chinese Cinema Season, that opened Feb 12 showcases Chinese language films never seen before in the UK and highlights overlooked gems to cinema-lovers in the UK and Ireland.
Presented by independent distributor Trinity Cineasia, the Filming East Festival and UK-China Film Collab, Chinese Cinema Season will be the biggest event of its kind that specializes in Chinese language films in the UK and Europe.
Over 50 films will be on offer over the course of the season, giving audience members access to the cream of Chinese cinema. The season will be divided into themed sections and mini retrospectives, with the aims of recontextualizing titles, enriching UK lockdown life and presenting Chinese culture in a fresh way with new perspectives.
Twenty films will be shown over the course of Chinese Cinema Season, with new titles added each week, and each staying on the platform for one to two weeks at a time. The festival opened with four sections: Shanghai Animation Film Studio Retro, Approaching Reality, Debut Spotlight and Domestic Hits.
The festival offers individual tickets for films, as well as season passes, with some films free of charge.
Alongside the films on show, there will be Q&As and panel discussions among industry professionals, filmmakers, actors, and academics.
For more information, please click here.