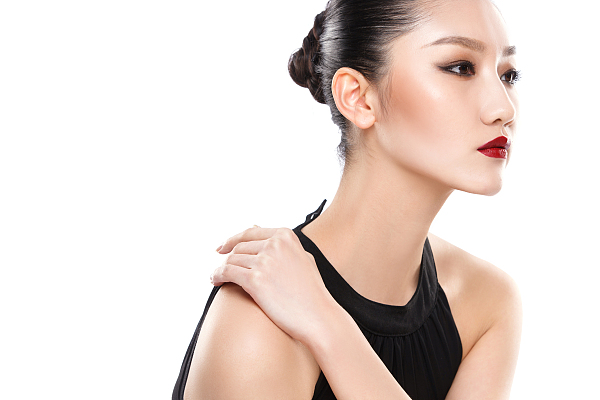 In the past, the imported cosmetics shelves in Japan's department stores were usually dominated by South Korean cosmetics. As "Chiborg boom"-Chinese-style makeup becomes popular on social media, Chinese cosmetics start to make inroads in Japan.
The term "Chiborg" is Japanese-made word, which is a combination of "China" and "cyborg", referring to a Chinese beauty so perfect and inhuman that looks like a cyborg.
In the eyes of Japanese young women, "Chiborg" usually uses bright colors reminiscent of China's classical Peking Opera, with a focus on eyes and lips to create a sharp and chiseled look.
While Japanese-style makeup always centers around cute and innocent features, Chinese-style makeup gives an appearance that is more elegant, cool and mature.
"Chiborg" began to attract the attention of Japanese young women around 2019, when abundant information on Chinese-style makeup has been circulating on Twitter and Instagram. It spread even more after tutorial videos of Chinese-style makeup were being posted on You-Tube.
Emilin, a Japanese girl who shares information on fashion on YouTube, posted a video on "Chiborg" and garnered more than 2 million views as of January this year.
Another blogger called "Shikanoma" explained the unique charm of "Chiborg." "Chinese-style makeup expresses the inner strength and confidence of a person and it feels new here. I think the concept of a 'cool woman' is becoming widespread in Japan nowadays. I also yearn to be a strong-willed woman," she said.
According to Yoshinai Takada, a purchasing manager at lifestyle grocery store Loft, "Chiborg" and Chinese cosmetics become even more trendy during the COVID-19 pandemic as people tend to spend more time at home, with some young girls learning makeup through social media.
"Chinese cosmetics have bright colors and creativity that Japanese and South Korean cosmetics don't have, and the splendid packaging has also become a hot topic on social media. The trend has also been supported by the fact that people spend more time at home searching beauty information during the epidemic," she said.
According to Yueko Nishihara, research planner at Japanese makeup and cosmetics portal site @cosme, nowadays Japanese women tend to emphasize the emotional value of cosmetics, such as "I am happy to have it", "It is fun to use" or "The smell is cured."
The fad is even more pronounced as the COVID-19 pandemic continues in the country and people refrain from going out, she said, adding that the charm of Chinese cosmetics is catering to this demand.
Furthermore, Chinese cosmetics are gradually shaking off the stereotype of cheap, low-quality products, said Saya Hayashi, CEO of Japan Functional Cosmetic Laboratory Co. Ltd.
"A few years ago, it was thought that Chinese cosmetics were mainly aimed at middle and low-income groups, but in the last year or two, there has been an increase in high-price, high-quality cosmetics, attracting office ladies and high-income customers," she said.
Xinhua