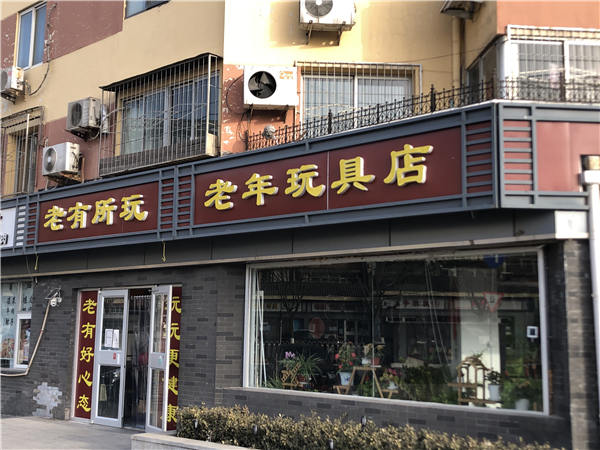 Shop sells games and gadgets to members of the older population with a sense of fun, Yang Yang reports.
Being, how can we say this with a modicum of politeness, of an age where bus passengers may give up their seats for you, does have its benefits. But one thing not normally associated with the loss or graying of hair is toys. That is changing. Despite the fact that China now has about 254 million people aged 60 or above, it is not until recently that arguably the first toy shop targeted at this population group was opened.
The shop, named Lao You Suo Wan (meaning, appropriately, "to age with fun") Toy Shop for Elders, is located at an obscure corner in Beijing's Tongzhou district.
As usual, the founder, 42-year-old Song Delong, opens the door of the 180-square-meter shop at 9 am on a Friday. These days, there have been sporadic COVID-19 cases in Beijing, so that some frequent elder customers do not show up, he says.
Sunlight shines through the windows so that the whole shop looks bright and warm. Entering the door, one will see two rows of green plants on the right hand. Caged birds tweet at the back of the shop.
Following the idea to build a typical traditional Chinese study, Song furnishes the space with traditional Chinese-style wooden shelves, on which he displays more than 400 kinds of toys that are divided into four major categories-classic, nostalgic, educational, and exercising, in addition to 16 other categories such as digital, novel and decompressive ones, says Song.
He points at a steel rolling pin, one of whose ends is fixed to a plank and the other is attached to a handle.
"We half mechanized the rolling pin so that the elderly can save a lot of effort while making dumplings," he says.
"So you can see my definition of toys are rather broad. We also have a collection of picture story books that people used to read in the 1980s and 90s."