Treasures from Tsarskoye Selo, Residence of the Russian Monarchs, a new exhibition at the Museum of History in Hong Kong was unveiled on Tuesday, providing visitors a closer look at the royal court of Russia in the 18th Century.
More than 200 precious items on loan from the Tsarskoye Selo State Museum-Preserve of Russia will be on display from Oct 29 to March 16, 2015. The items include costumes, porcelain and weapons that were used by well-known historical figures like Empress Catherine the Great.
The highlight of the exhibits is a four-seater carriage used for the coronation of Emperor Alexander II in Moscow in 1856. The last time that the complete set of six harnesses and the carriage were seen in public was in 1914 during the celebration of the 300th anniversary of the Romanov dynasty on the throne.
The exhibition is co-hosted by the Leisure and Cultural Services Department of Hong Kong and the Tsarskoye Selo State Museum-Preserve of Russia.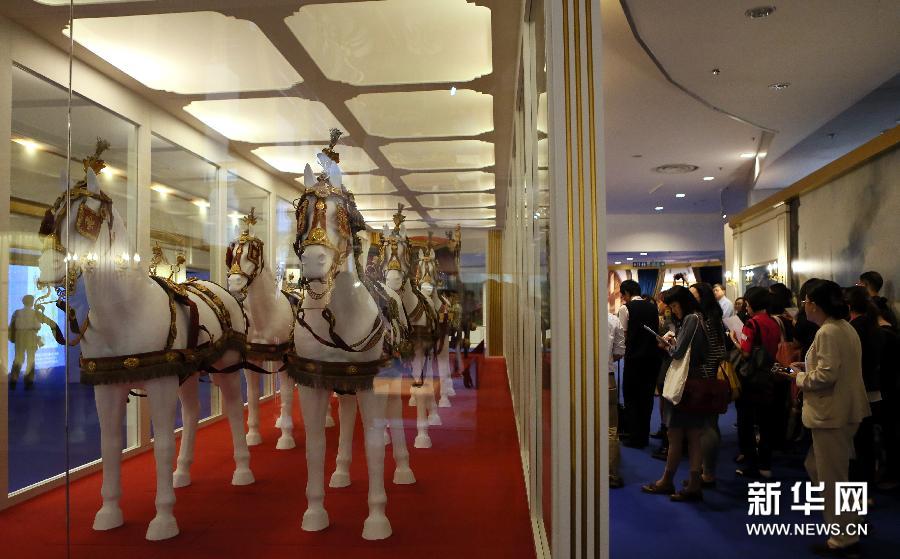 Visitors look at the four-seater carriage used for the coronation of Emperor Alexander II in Moscow in 1856 at the exhibition of Russian royal treasures at the Museum of History in Hong Kong on Oct 28, 2014.[Photo/Xinhua]
Recommend: