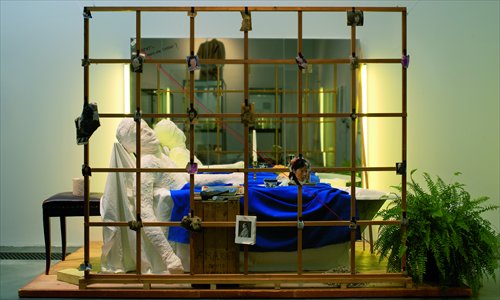 Marat - Who Was Corday? by Bjørn Nørgaard Photo: Courtesy of CAFA Art Museum
It is universally accepted that artists see the world from a different angle or even create worlds of their own, but what about taking our world and turning it into something else? What happens then? Danish artist Bjørn Nørgaard's exhibition Bjørn Nørgaard: Re-modelling the World - again again again may satisfy your curiosity.
Opened on Friday at the China Central Academy of Fine Arts (CAFA) Art Museum, the exhibition boasts 77 pieces of Nørgaard's works created from 1960s to present, including large tapestries he made for the queen of Denmark. Through these works he shows his concern for and critical attitude toward history and reality, in which the world we are familiar with is broken into small puzzle pieces and rebuilt again in strange new ways.
"Nørgaard has a strong exploratory spirit and immense creativity… Over the course of his artistic career, Nørgaard has created a surprising body of work that constantly challenges convention," said Wang Huangsheng, director of the CAFA Art Museum.
Breaking from convention
Born in 1947, Nørgaard became one of the most important artists in Denmark during the 1960s. Working primarily with sculpture, he also has engaged in installation art. His performance art, films and graphic works are also on display at the exhibition.
Walking into the exhibition the audience can first have a look at Nørgaard's early performance art in which he explores the intersection between action and representation while trying to reinterpret and affect the world.
For instance, the film From the Cellar of the Student Council shows some performance art Nørgaard carried out in 1967 during which he rearranges different every day materials and objects such as pots and pants. A part of his first solo exhibition, the work aims to change the way we perceive familiar things and thus imbues them with new possibilities.